K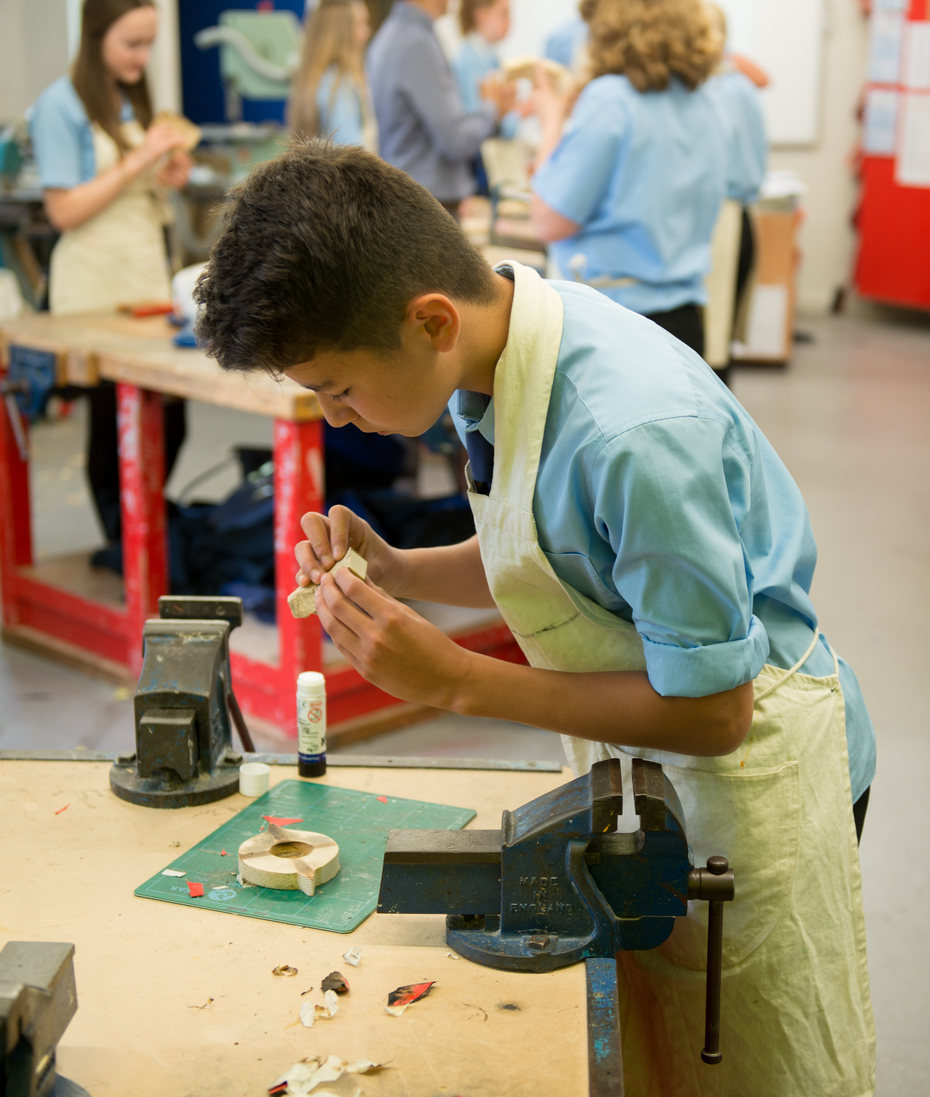 Ey Stage 3

Students work on a carousel system where year groups rotate between the different subjects studying food, textiles, product design, computer graphics and CAD CAM. Workshops and food rooms are well resourced including a computer room, three laser cutters and a dye sublimation printer which enables students to work with a wide range of ingredients, materials and components.

The iPad is used extensively throughout the KS3 course to support individual research, project diaries and posters. The iPad supports homework and Tech Guru an innovative iPad based extension research activity and out-of-lessons learning initiative.
YEAR 7
Mini Light – learn about sustainable design, electric circuits and use computer graphics and sublimation printing to manufacture a mini light torch using principles based on the 6Rs. (Reduce, reuse, recycle, rethink, refuse, and repair.)
Food skills – Work with a range of ingredients to make savoury and sweet products. The focus is on understanding food groups, good hygiene and safety. The food skills unit leads to the 1 Star Chef award sponsored by Sainsbury's & DATA – (click here for more information.)
Structures – Investigate famous structures. Design and test a bridge to destruction.
Textiles – Use computer graphics and CAD CAM to make a stencil, decorate a draw string bag using stencilling, applique and embroidery skills.
Transport Project - An introduction to wood working skill to design and make a wooden toy on the theme of transport.
YEAR 8
Electronics – manufacture a printed circuit board and use vacuum forming to make a colour changing night light. CAD CAM and the laser cutter are used to manufacture the night light element.
Food – Pizza project and British foods focus on good nutrition and a healthy balanced diet. (Leading to the 2 Star Chef award sponsored by Sainsbury's & DATA – (click here for more information.) The Year 8 food project includes a termly, cake competition that students can enter and win points for their house.
Jewellery – Design, manufacture and package a piece of jewellery of key fob using pewter casting. The design theme is nature, natural forms and biomimicry.
YEAR 9
Cakes – Use different cake making techniques including creaming, whisking, melting to produce a range of cakes. Use ICT to compare cost and nutritional content of these cakes.
Charity Boxes – Design and make a charity collection box as part of our "Kindness in Schools" initiative.
Phone Sock – Build on your textiles skills to design and make your own personalised phone sock.
Desk top products – use modelling, CAD CAM and the laser cutter to form a 3D desk organiser from sheet acrylic
Tea light – use recycled timber to design and make a tea light holder.
World Foods – students plan, produce and evaluate a range of international main course dishes leading to the 3 Star Chef award sponsored by Sainsbury's & DATA – (click here for more information.)
Key Stage 4
The department offers five GCSEs, Child Development, Electronics, Food Technology and Product Design (Materials) or Product Design (Graphics). Classes are taught as mixed ability in specialist food rooms and workshops.