NEWSLETTER: FRIDAY 23 OCTOBER 2020
SCHOOL NOTICES:
FRIENDS NEWS
A successful AGM was held on Monday, 19 October, with the Committee now being made up of the following:
Chair: Ann Williams
Treasurer: Natalie Briggs
Secretary: Sharon Wade

Thank you to everyone who did attend. Some exciting ideas and interesting information was exchanged during the meeting, with Dom Kenrick sharing an update on how the school and students were managing during this first term back at school. There was opportunity for parents to raise questions and provide feedback to him as well during this time.
Christmas Raffle Prizes needed – Do you own/run a business in the area?
Would you like to sponsor a prize for our annual Christmas Raffle? It could be for a service you offer, vouchers or a physical product. Please email us at friendsofwardenpark@gmail.com to discuss further.
Result of parent governor election
Thank you to everyone that voted and to all the candidates that stood for election as parent/carer-nominated governor. All candidates standing received strong support but with the majority of the vote we are pleased to announce the appointment of Tom Hosking, as the new Parent/carer-nominated governor.
Clerk to Local Governing Body
Looking Ahead: IMPORTANT DATES FOR YOUR DIARY
Monday 2 November - INSET DAY. No students required to attend. Please note this is the first day back after half term.
Friday 27 November - INSET DAY. No students required to attend
Thursday 10 December - Year 11 Virtual Reporting Evening 3.45pm - 7pm.
Thursday 17 December - Final day of the Autumn term. Students dismissed at 1 pm.
Dates are very much subject to change - please keep an eye on your inbox and website calendar for updates
Are you a follower?
Follow us on Twitter for the latest updates and news, including any emergency school closure information @wardenpark and @wardenparkpe
Our online PE clothing shop:
Click here for the Bob Woolmer Sales website dedicated to Warden Park PE clothing
Rain jackets, particularly useful for the cooler, wetter months are ideal for travelling to and from the Academy and are available to buy now from Woolmers along with lots of other items!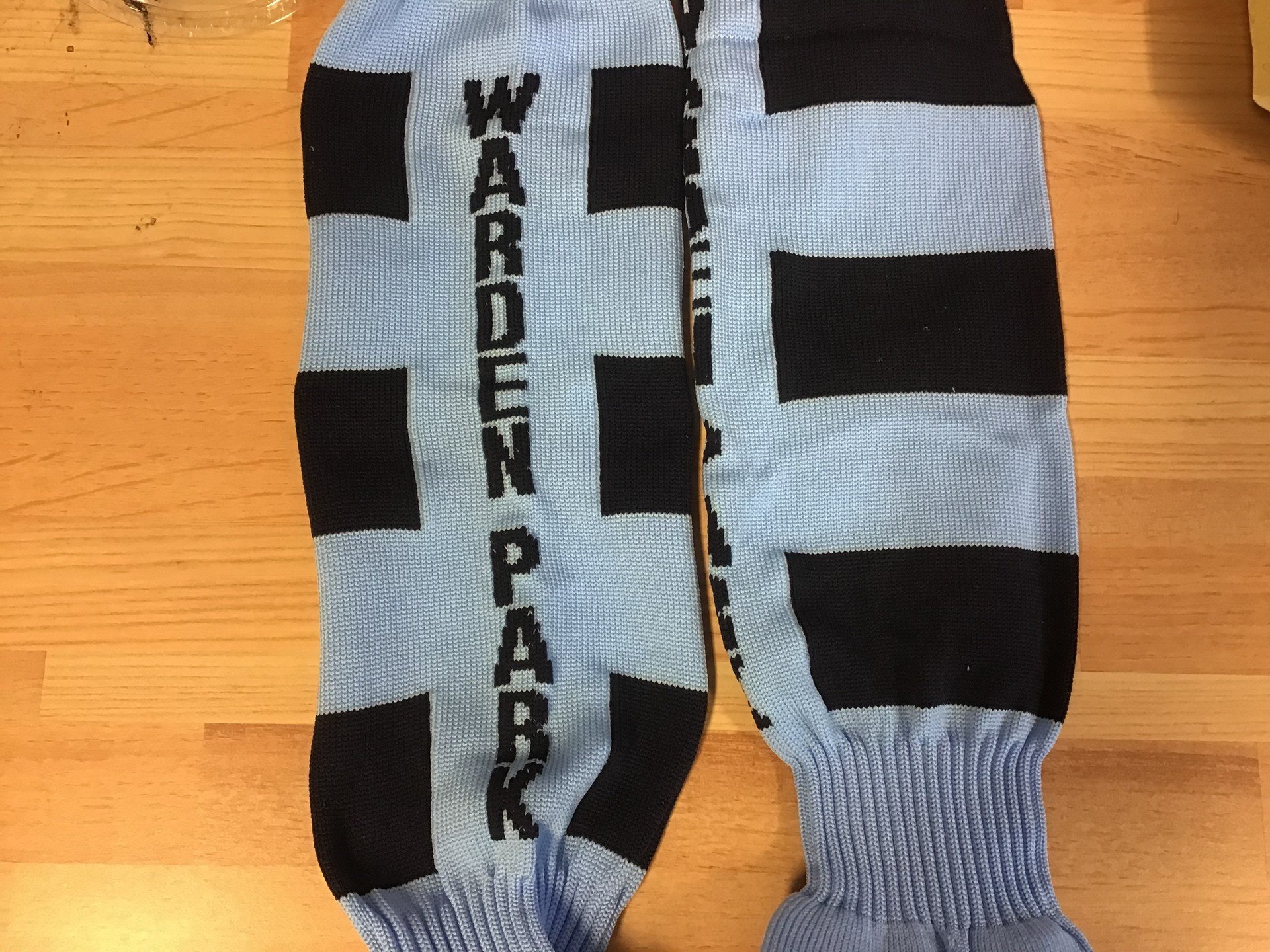 Also, we have a stock of Warden Park football socks (pictured) in school for £6 per pair available via Parentpay. Once payment made, delivery of the socks will be direct to your child.
Term Dates

Do not rely on Google searches when looking at term dates. You must refer to term dates published in newsletter or on our website. Thank you.

College open events
Haywards Heath College
What Next Sussex
Virtual Open Evening 12 November 6pm - 9pm
:
Sign up via their website
more from music!
We're very lucky to have such excellent peripatetic partners for music lessons here at Warden Park. Learning an instrument is such a fulfilling experience and it also comes with many other benefits. If your child is interested in learning an instrument then follow
this link
to find out more. Miriam is our violin teacher and
you can watch her in action here
!
Black History in Music
Today's celebrated artist is Jimmy Cliff, who is best known for hits such as "Wonderful World, Beautiful People", "You Can Get it if You Only Want" and his inimitable cover of Johnny Nash's "I Can See Clearly Now". Cliff's positive energy and resilience in the face of adversity should be an inspiration to us all. Enjoy
this performance
from Jools Holland in 2012. His boundless energy puts some much younger musicians to shame!
Key Stage 3 Music Tech
Mr Spencer's virtual music tech club have been hard at work learning how to compose music using a range of music technology skills. Listen to what they've been creating here, and if you'd like to get involved, use the code to sign up!
Year 8 make mini quiches in food tech
Look at these lovely specimens from Henry C in Year 8!
Mr Kenrick was very impressed!
MFL news
This week in Spanish, Year 7 students have been doing their first speaking assessment. We are so proud of what they have learned in just 7 weeks. Click here to listen to one of the tests.
Students in Year 10 French and Spanish have been busily writing up their end of Module 4 speaking questions and are really getting the hang of tenses and more complex sentence structures. Here's an extract from some of the French questions by Caleb M
Qu'est-ce qu'il y a dans ta région?

Dans ma région, il y a beaucoup de cafés, magasins, et quelques restaurants. Il y a aussi deux l'écoles. Malheureusement il n'y pas beaucoup pour les jeunes. Mais, ça m'est égal, parce qu' il y a des champs et forêts près de ma maison.

Qu'est-ce qu'on peut faire dans ta région?

Dans ma région, on peut faire des randonnées dans le champs, et visiter des vieilles églises. On peut jouer au golf dans un dix-huit-trou route. On ne peut pas visiter un musée mais il y a des parcs. Je joue en mon ordinateur beaucoup de temps.

Le climat est comment?

Généralement, le climat est humide, mais depuis quelques semaines il fait beau. Le ciel est souvent gris, mais le matin, c'est jaune et très beau. Pour exemple, le week-end dernier, il y avait du vent, et il a pluie.
National championships
Sally Turner, PE teacher from Warden Park Secondary Academy in Cuckfield, took part in the National open circuit 25 mile Time Trial championships in Cambridge at the weekend. The course was a sporting 2 lap circuit of 25 miles where Sally was delighted to finish 9th in the country.

Sally said "I am happy to get 9 th and the age group win (and 2nd vet). It has been an up and down year ranging from a string of mechanical DNFs in some races and course records in others! (And the small matter of a global pandemic)
It has been a pleasure to race against the best in the country. Next year I am hoping we can travel again, and I can have another go at achieving a podium place at the world age group UCI championships.

As a self funded sport it has really helped that Mansell McTaggart from Uckfield and Barkers garage have kindly sponsored me. I am incredibly grateful.

Sally is always looking for support if there is anyway you can help her please contact her sally79turner@gmail.com
House competition - black history month
National poppy appeal launches
As Remembrance Sunday draws near, we've been thinking closely about how to honour our veterans.
This year, as with everything, things will be slightly different. In order to support the Poppy Appeal we have set up a section on Parent Pay where donations will be taken.
For every donation made the family or student name will be added to our Donation Poppy, which will be displayed in reception throughout November. At this very strange time we as a school community stand with our veterans and would love to be able to raise as much money as possible for the Poppy Appeal. We feel now more than ever is a time to be charitable and care for others.
Thank you for your donations and support.
The Kindness Council
House news
Beacon
I've finally added up your collection pots (£30.69) and I'm delighted to say that your total now comes to £813.87! That is absolutely fantastic and will make a huge difference to our income this year. In summary your students will enable an additional 32 families to stay in one of our Houses overnight.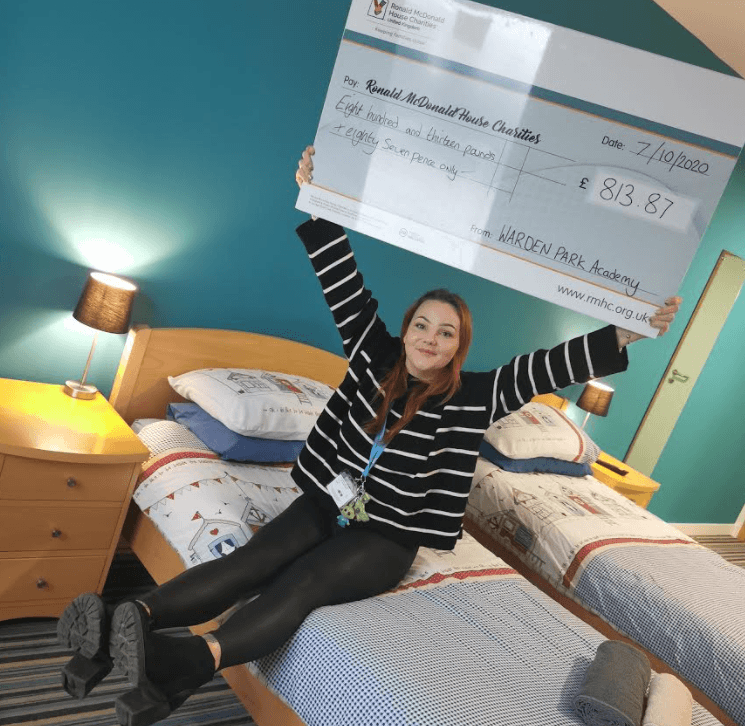 Miss Lillington, House Co-ordinator Beacon
Coombe
Thanks so much to Coombe students, who raised a fantastic £1, 89.29 for the Alzheimer's Society last year! We're looking forward to launching new charity initiatives after the half-term holiday.
Mr Wells House Co-ordinator Coombe
Forest
We received a lovely letter from Starlight setting out their plans for the money we raised. Well done Forest!
Mr Woods House Co-ordinator Forest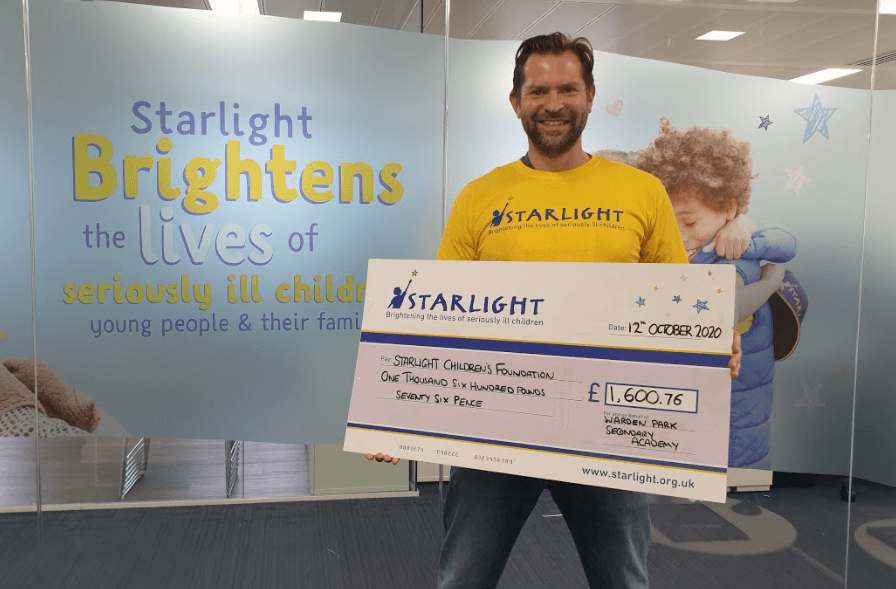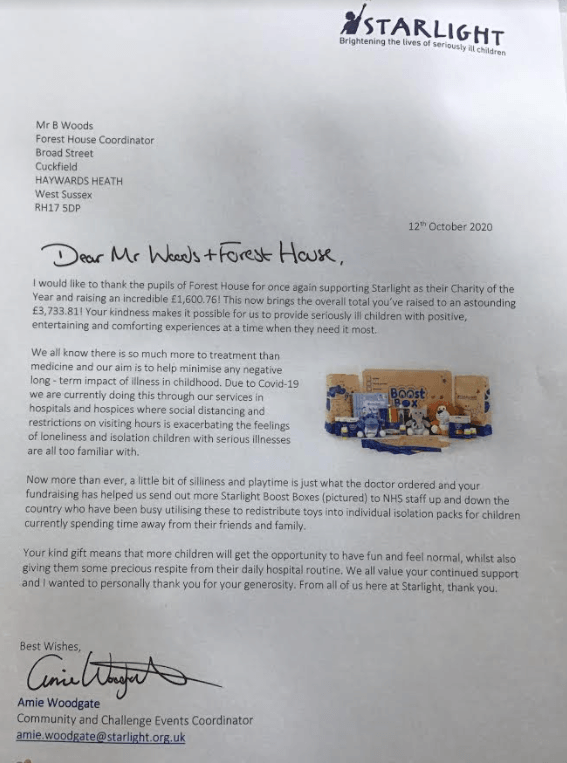 Mr Woods House Co-ordinator Forest
Heath
A very big thank you to all Heath students who helped us raise a whopping £977.16 through school fundraising and the JustGiving website. This really helped St Catherine's Hospice when they were struggling to fundraise during lockdown.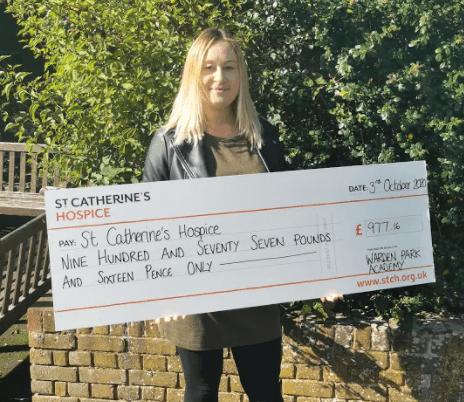 Miss Middleton House Co-ordinator, Heath