NEWSLETTER: FRIDAY 27 may 2022
Class of '22
It was an emotional Leavers Day on Wednesday (and that was just me!) when our Class of '22 flew the Warden Park nest. Once another exam was under their belt, the students enjoyed free paninis and ice cream before attending the Leavers Assembly, the traditional shirt signing and finally collecting their hoodies. The students did themselves proud on the day with impeccable behaviour and we are sad to see them go however wish them all the very best with their remaining exams and adventures post Warden Park.
Pics to follow after half term!
Mrs Finley Head of Year 11
County Cup Champions - the route to the finals!
The U14 girls team have enjoyed another phenomenal season of football. After the heartbreak of losing in the County Cup final in Year 7, the girls all had the determination to go one step further this time around and this was evident in all of the matches this season in the County Cup.
After a bye in round 1, the girls were drawn away in round two to Durrington High School where they put out a statement of intent by winning 11-0 in a dominant performance. Round 3 saw Warden Park at home against a determined Hove Park side. With the score at 1-1 in the first 5 minutes the girls knew they had a game on their hands. However, with some amazing forward play in the second half from Siobhan and Evie, the team managed to win in a more relaxed fashion with the final score being 8-2 to Warden Park. The Quarter Final saw Warden Park face Littlehampton Academy at home where the girls took no prisoners winning 12-2 with all players on fire in front of goal. For the Semi-Final the girls were drawn away to St Catherine's College. After an initial cagey 10 minute period with the score being 0-0, Warden Park grabbed two quick goals before the break to settle them down. The second half display was a defensive masterclass from Lucy, Georgia, Annabel and Mia to ensure the opposition's pressure didn't result in a goal, and with that the game ended 4-0 to Warden Park placing the girls into yet another final.
The County Cup Final saw Warden Park play a familiar opposition in Dorothy Stringer. The girls were aggressive from the get go and within the first five minutes we went 1-0 from a great cross by Evie unfortunately nestled into the back of the net by a Stringer player. The Warden Park girls did not stop there as Sophie managed to time her run fantastically well on two occasions to get through the defence and slot home on both to make it 3-0 to Warden Park at half time. The team talk at half time was fairly simple - keep doing what you are doing and do not relax. The phrase "a game of two halves" could not be more relevant than in this game as Stringer came out fighting in the second half. Warden Park simply could not get out of their half with the amount of pressure being put on them and this showed as Stringer managed to score two goals in quick succession and with over 10 minutes of the game remaining. In the last panic periods of the game, Liv in goal showed her class and kept the girls in it with some absolutely stunning saves. Stringer played very well but the character, determination and will to win from the Warden Park girls saw them stand strong and hold onto the lead, crowning them Sussex Schools County Champions.
An absolutely amazing final and performance from both teams involved and congratulations to the Warden Park girls on not only winning the Cup but performing so well all season. Bring on next year and the National Cup!
Mr Timms, Coach and PE Teacher
UKMT maths challenge
Congratulations to all the students who have taken part in UKMT maths challenges this year.
Warden Park students have shown themselves to be some of the best mathematicians in the country with excellent results in both the Junior and Intermediate maths challenges.
Answering problems involving logic, geometry, numerical relationships and abstract concepts the our students competed against students from across the country. We are very proud to say that dozens of students have received Bronze, Silver and Gold awards. Even more impressive nearly 20 of Warden Parks best mathematicians qualified for the prestigious second round of the challenge, placing them in the top two thousand participants in the country. Special mention must go to Ben P who performed so well that he has received an invitation to the UKMT Maths Camp at Leeds University. An exclusive event only open to a select few top scorers across the entire country.
Why not have a go at this question from the Intermediate Challenge? (Sorry but no calculators are allowed).

Autism Ambassadors
The Warden Park Autism Ambassadors group visited the Northlands Wood Autism Ambassadors group to discuss a film project. The aim of the film is to raise awareness and understanding of autism. The film is being produced by the West Sussex Autism and Social Communication team. We are very excited for the opportunity!
Speak to Mr Simpson or email
isimpson@wardenpark.co.uk
if you are interested in being an Autism Ambassador or would like more information about the group.
Parkes Inflation Action
It will come as no surprise for us to tell you that the costs of running Parkes have increased dramatically this Spring: food suppliers have passed on increases from their own supply chains, energy costs have risen and staff costs have jumped following the National Insurance increase.
With regret we are having to increase the price of many items for the rest of the summer term. We will also have to keep prices under review for the Autumn Term.
We believe that it is important to state that Parkes is operated on a break-even basis and that these increases are necessary to ensure this, and not to safeguard profits.
With this in mind, and in anticipation of further potential price increases, we are also increasing the maximum daily spend to £5.50 - if you wish to set a lower limit you can do this by emailing Rachael Birch rbirch2@wardenpark.co.uk
out of school success
Hailey Gorringe in Year 10 has been selected to play for Sussex under-15's Rugby team! She made it into the Development squad about a month ago, and this Sunday is playing in the actual team in a match at Crowborough. Good luck Hailey!
goalkeeping success for Filip
Filip received two Trophies at the End of Season awards following a successful season for Burgess Hill Town U13's. With the Team getting off to a slow start (losing their first 6 games ) and struggling with consistency, the confidence was low, they were playing some good football in spells but not managing to maintain it for the full 80 minutes and results weren't coming.
The boys kept believing their efforts would be rewarded and In early December they had their first win, with Filip making a number of great saves, from this point onwards they only lost three league games (out of 13) for the remainder of the season, with 6 clean sheets. Well done to the BHTFC U13's .
Filip has benefitted from some excellent Keeper Training sessions laid on by the Club which is being extended this Summer and into the 2022/23 Season.
A new Goalkeeping Academy is being created and Summer Camps are also being scheduled...see below.
Are you a follower?
Follow us on Twitter for the latest updates and news, including any emergency school closure information @wardenpark
Term Dates

Do not rely on Google searches when looking at term dates. You must refer to term dates published in newsletter or on our website. Thank you.
Fundraising for a 3G defib!
Our Premises Manager, Mr Woolsey is taking part in the British Heart Foundation
London to Brighton Bike Ride to raise funds for a defibrillator and secure box to house it for our 3G pitch at the Academy.
Cool Science experiment! A short 13 second clip, well worth a watch!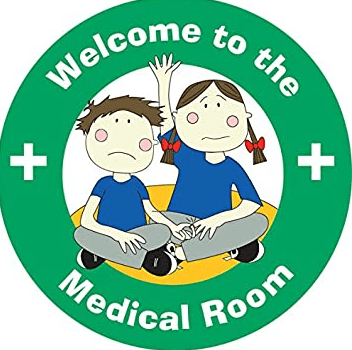 The Medical Room is open from 09.00 – 15.00 for students who have become unwell or sustained an injury during the school day. Students with non-urgent problems should come at break / lunch time.
Paracetamol is only routinely given from 10.45 - 13.45, and only if we have your consent to do so.
The procedure for students is to come to the medical room to be assessed by the Medical Welfare Officer (MWO). If, after assessment, we feel that your child needs to go home, we will contact you. The MWO will then inform pastoral staff and sign the student out.
For safeguarding reasons, students are not to contact parents directly to arrange collection. Please ensure that you and your child(ren) are aware of this.
Please contact the Medical Welfare Team if you have any questions or concerns.
01444 457881 EXT 265
friends news
Friends of Warden Park are looking for a new Chair and Secretary to take over from October 2022 as the current incumbents will be stepping down at the AGM. Please could you consider if these are roles you would be willing to take up to enable this charity to continue to run.
An email from the school with further details went out to all parents/carers a couple of weeks ago. Feel free to contact us by email at FriendsofWardenPark@gmail.com should you be interested in getting more details about either of these roles or learn more about Friends
Is there a Doctor in the house? Attention Years 8, 9, 10 and 11
BrightMed identifies and supports young people from across Sussex who have the potential to become tomorrow's doctors.
The programme will increase awareness of what it takes to study medicine and healthcare subjects, through fun, inspiring and interactive teaching focused on medicine, health and science.
BrightMed works with students from Year 9 to Year 13. As a 'BrightMedder', young people will take part in regular Saturday sessions that involve knowledge sessions, activity days, lectures and seminars. There is also an opportunity to experience life as a student with a stay at the University of Sussex campus during a four-day residential summer school at the end of Year 12.
Every year BrightMed aims to recruit 80 Year 8 students, who will start the programme at the beginning of Year 9. Often we also have spaces in other years and so would encourage applications from those currently in Year 8, 9, 10 or 11.
For eligibility, further information and to express your interest please
click here
APPRENTICESHIPS SPECIAL FROM REWARDS TRAINING
As you may be aware, here at Rewards we specialise in Apprenticeships – which are available to individuals age 16 and over. During National Apprenticeship week, we created a presentation which gives a good all-round understanding of what is on offer with Rewards. https://www.rewardstraining.co.uk/apprenticeship-video
Click here for the apprenticeship guide for parents
Rewards have also started to offer Traineeship opportunities. Traineeships are an education and training programme with work experience for young people, whose preference is to find a job or apprenticeship but who lack the skills, experience and behaviours sought by employers.
All 'live' apprenticeship vacancies can be found at https://www.rewardstraining.co.uk/become-an-apprentice . There is also have a brand new 'KEEP ME INFORMED' option, which can be found on the vacancy page to make sure no opportunities are missed. Register your name, email address and sector of interest, to receive notification of any NEW opportunity that may be of interest.
If any parents / carers or students have any questions or would like any more information, please contact:
Donna Eyre - Apprenticeship Opportunities Advisor
T: 01293 562 651 W: www.rewardstraining.co.uk
Brighton MET and Northbrook MET
We know that visits to college campuses are highly valuable experiences for prospective students and are also aware that a lot of time at school has been missed in the last two years. With this in mind we have decided that this year we will hold our dedicated Year 10 open events out of school hours. We hope this will mean more students are free to visit us to get their first taste of what life is like at college. So I am delighted to confirm that our Year 10 Taster Open Events will run on the following dates:
Tuesday 5 July - 3.30-5.30pm
Brighton MET, Central Brighton Campus, Pelham Street, Brighton, BN1 4FA
Northbrook MET, West Durrington Campus, Littlehampton Road, Worthing, BN12 6NU
Wednesday 6 July - 3.30-5.30pm
Northbrook MET, Broadwater Campus, Broadwater Road, Worthing, BN14 8HJ
Wednesday 6 July - 3.30-5pm
Northbrook MET, Shoreham Airport Campus, Cecil Pashley Way, Shoreham-by-Sea, BN43 5FF
Thursday 7 July - 3.30-5pm
Brighton MET, East Brighton Campus, Wilson Avenue, Brighton, BN2 5PB
More details and the booking form can be found here:

If your next steps are undecided and you're not sure if further education is the best route for you,
take a look at some apprenticeships that are currently available in our area. If you are interested please apply directly to the company -
links on the job descriptions
.
kindness mural
Kindness & Wellbeing activities update - A massive THANK YOU
to the following Year 10 students; Ysella, Mhia, Megan B, Bea, Zara and Roisin for painting the maths Kindness mural.
These students have given up their free time after school for many weeks, in order to complete this amazing project.
Persuasive speeches….
This half term year 10 Ingenium students have been further developing their public speaking skills by writing persuasive speeches. Recently the group took part in a balloon debate; the premise is that we are all in a hot air balloon that is losing height. To avoid crashing, weight has to be lost from the hot air balloon's basket by jettisoning one of the people in the basket!
Each student was given a person whose life work has had an impact on others. The list included a diverse range of people such as Marie Curie, Elizabeth Fry, Jack Kerouac, Elizabeth Anionwu and Nelson Mandela. They had two minutes to speak to persuade the group that their person should not be sacrificed. The quality of the speeches was truly outstanding with students staying in character whilst delivering their speech and continuing the debate through the lesson.
Their ability to use persuasive language techniques and to speak confidently, engagingly and in a persuasive manner was shown to be very impressive.
ICT Digital Services Technician
37 HOURS PER WEEK, FULL TIME SALARY £22,529 - £26,443 per annum
This is a key role within the Digital Services Team of the Trust, providing a wide range of provision and support services to enhance the delivery of learning and to support our operations. The Digital Services department leads IT infrastructure services, device management, wifi management, and other business systems.
We are looking to recruit an enthusiastic, well-motivated and suitably qualified person who is positive, flexible and well-organised with a 'can do' approach; someone who is hardworking and pro-active, who can work to a programme of work but who can also use their own initiative, with a strong work ethic and time management skills. The ability to work effectively, calmly and often under time pressure is essential.
If you are interested in this role and you would like to be considered for this post, please download an application pack, available on our website www.wardenpark.co.uk .
Closing Date: 6th June 2022 5.00pm
Summer holiday sports courses now live!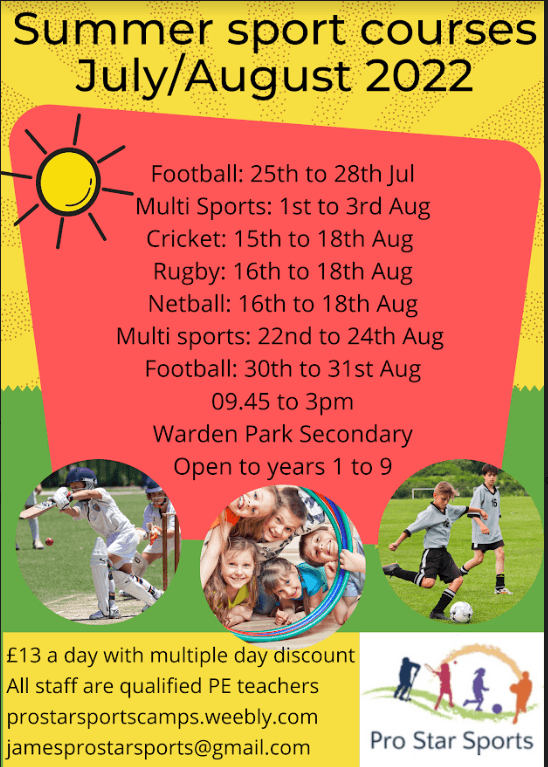 Are you concerned about the lack of engagement from your teenagers and how active they may be over the Summer holidays? We may have an answer to entice them away from the X Box and phone!
Often children only want to take part if a friend is doing so. We encourage them to show character and just get involved and make new friends.
For the younger students 0 to 6 if you book on for 2 full courses you will get the 3rd course for FREE.
Please see the booking links below for the courses we offer. Link includes dates, prices and how to reserve your place.
We have 2 Summer holiday Tennis courses too! See posters below. Please note the different dates.
summer term pe clubs
Click here for our Summer term PE clubs.
Looking Ahead: IMPORTANT DATES FOR YOUR DIARY - 2021/22
Monday 30 May to Friday 3 June - Half Term
Friday 24 June - Inset Day (Academy closed to students)
Friday 24 June - Year 11 Prom
Monday 27 June - Year 6 Parents Evening (joining in September 2022)
Friday 8 July - Sports Day
Monday 11 July to Friday 15 July - Enrichment / Work Experience Work
Thursday 21 July - End of Term. Students dismissed by 1pm
Thursday 1 September - Inset Day (Academy closed to students)
Friday 2 September - Year 7 only attend
Monday 5 September - All years attend
Thursday 15 September - Open Evening (students dismissed at 12.30 pm)
Monday 24 October to Friday 28 October - Half Term
Friday 25 November - Sussex Learning Trust Inset Day (Academy closed to students)
Friday 16 December - End of Term. Students dismissed by 1 pm
Dates are subject to change - please keep an eye on your inbox and website calendar for updates
FRIENDS 300 Club
Tickets are still available for the 300 club. Each ticket costs £20 and gives you 12 opportunities to win – 1 a month. 3 numbers are drawn and will win a prize – the amount will vary depending on how many tickets have been sold in a particular month. Tickets can be bought via ParentPay.