NEWSLETTER: FRIDAY 29 april 2022
Come along to our Spring Fair tomorrow! Come along to our Spring Fair tomorrow! Come along to our Spring Fair tomorrow! Come along to our Spring Fair tomorrow! Come along to our Spring Fair tomorrow!
u12 rugby team crowned champions!
The U12 Rugby team have had a fantastic season which has culminated in being Crowned Sussex U12 Rugby Champions.
The team have won 18 out of 19 fixtures this season and managed to beat a very strong Cardinal Newman team 20-10 in the final.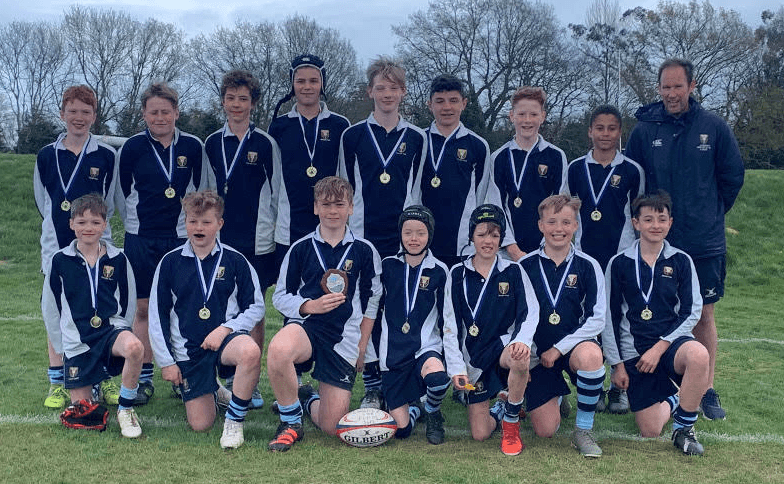 The boys involved have been committed to training throughout the year and have a squad of 22, something that bodes well for the future. Even more remarkable is the fact that in the starting 12 only 5 players have played Rugby before joining Warden Park in September. Most boys have now joined the local rugby club, Haywards Heath which is great for school and club. Many of the boys also play for our football and basketball teams and have "converted" those skills into the disciplines required for playing Rugby.
The team have beaten Brighton College, Stringer, Tanbridge House, Hurstpierpoint College, Downlands and Shoreham en route to the County final. Captain for this year Dylan B has been extremely physical in the forward pack along with Liam C and Tom O'D. The backs have used the pace and agility of Oliver J, Charlie C, Evan D, Kallen C, Matthew R and Austin H. Pulling the strings between the forwards and the backs were brother Kit and Raffi Merchant along side Noah B. Louie B and Charlie D were both outstanding in the forward line especially at the break down.
The boys are looking forward to more Rugby next year and looking to regain their crown.
Mr Gentry, Head of PE and Sport
swimarathon 2022
Our final teams were:

Wizards
Matthew W
Joshua W
Elliott W
Amelie J
Riya M

Warriors
Luca S
Kit M
Liam H
Freya P
Oscar M

The Wizards swam 118 lengths and the Warriors swam 114 lengths so a grand total of 232!
Congratulations to everyone involved!
Special mention .......
to Larry S who swam 80 laps in the 50 mins for the Waves team. Epic effort!
Could you survive a Zombie invasion?!
STEM club are carrying out a project to see if they could survive a zombie invasion! This week they measured the volume of their footsteps and then designed shoe covers to see if they could travel around more quietly and avoid alerting any hungry zombies!
Next week they are going to investigate sending messages using Morse Code, join us in S13 on Tuesday if you are interested.
Sam, the new goalie of Dorking Wanderers in action!
Here's Sam (current Year 11) in action in the recent 1-1 draw v Chatham Town.
Dorking Wanderers are poised for promotion into the National League.
We will follow his progress with interest after he leaves Warden Park in the Summer! Go Sam!
Thank you from MFL
This week, year 11 have had their French/Spanish language speaking exams. We are so proud of them. They have shown maturity and worked really hard to prepare.
Thank you for supporting them at home with this.
The MFL department.
Understanding Young People's Mental Health
FREE workshops for parents and carers from West Sussex Mind
As a parent, we often find ourselves ill-equipped when it comes to dealing with, or even being aware of, our child's or young person's mental wellbeing, but help is at hand. West Sussex Mind are running a series of friendly, confidential and relaxed workshops where we will discuss about the challenges to young people's mental health, gain confidence in having conversations about how they are feeling and thinking and explore ways to help your young person with any emotional difficulties.
Invitation girls in Years 10 & 11
Burgess Hill Girls is hosting their fantastic annual tomorrows women conference.
This is an amazing opportunity for young women to hear from a variety of professionals. We are trying to promote the event and it would be great if you could share the event with students as this would be a great opportunity for them.
Looking Ahead: IMPORTANT DATES FOR YOUR DIARY - 2021/22
Monday 30 May to Friday 3 June - Half Term
Friday 24 June - Inset Day (Academy closed to students)
Friday 24 June - Year 11 Prom
Monday 27 June - Year 6 Parents Evening (joining in September 2022)
Friday 8 July - Sports Day
Monday 11 July to Friday 15 July - Enrichment / Work Experience Work
Thursday 21 July - End of Term. Students dismissed by 1pm
Dates are subject to change - please keep an eye on your inbox and website calendar for updates
Term Dates

Do not rely on Google searches when looking at term dates. You must refer to term dates published in newsletter or on our website. Thank you.
Role model's enjoy Easter treats
Here are our Year 7 Role Model's after their Easter Egg hunt.
Fundraising for a 3G defib!
Our Premises Manager, Mr Woolsey is taking part in the British Heart Foundation
London to Brighton Bike Ride to raise funds for a defibrillator and secure box to house it for our 3G pitch at the Academy.
Is there a Doctor in the house? Attention Years 8, 9, 10 and 11
BrightMed identifies and supports young people from across Sussex who have the potential to become tomorrow's doctors.
The programme will increase awareness of what it takes to study medicine and healthcare subjects, through fun, inspiring and interactive teaching focused on medicine, health and science.
BrightMed works with students from Year 9 to Year 13. As a 'BrightMedder', young people will take part in regular Saturday sessions that involve knowledge sessions, activity days, lectures and seminars. There is also an opportunity to experience life as a student with a stay at the University of Sussex campus during a four-day residential summer school at the end of Year 12.
Every year BrightMed aims to recruit 80 Year 8 students, who will start the programme at the beginning of Year 9. Often we also have spaces in other years and so would encourage applications from those currently in Year 8, 9, 10 or 11.
For eligibility, further information and to express your interest please
click here
APPRENTICESHIPS SPECIAL FROM REWARDS TRAINING
As you may be aware, here at Rewards we specialise in Apprenticeships – which are available to individuals age 16 and over. During National Apprenticeship week, we created a presentation which gives a good all-round understanding of what is on offer with Rewards. https://www.rewardstraining.co.uk/apprenticeship-video
Click here for the apprenticeship guide for parents
Rewards have also started to offer Traineeship opportunities. Traineeships are an education and training programme with work experience for young people, whose preference is to find a job or apprenticeship but who lack the skills, experience and behaviours sought by employers.
All 'live' apprenticeship vacancies can be found at https://www.rewardstraining.co.uk/become-an-apprentice . There is also have a brand new 'KEEP ME INFORMED' option, which can be found on the vacancy page to make sure no opportunities are missed. Register your name, email address and sector of interest, to receive notification of any NEW opportunity that may be of interest.
If any parents / carers or students have any questions or would like any more information, please contact:
Donna Eyre - Apprenticeship Opportunities Advisor
T: 01293 562 651 W: www.rewardstraining.co.uk
Brighton MET and Northbrook MET
We know that visits to college campuses are highly valuable experiences for prospective students and are also aware that a lot of time at school has been missed in the last two years. With this in mind we have decided that this year we will hold our dedicated Year 10 open events out of school hours. We hope this will mean more students are free to visit us to get their first taste of what life is like at college. So I am delighted to confirm that our Year 10 Taster Open Events will run on the following dates:
Tuesday 5 July - 3.30-5.30pm
Brighton MET, Central Brighton Campus, Pelham Street, Brighton, BN1 4FA
Northbrook MET, West Durrington Campus, Littlehampton Road, Worthing, BN12 6NU
Wednesday 6 July - 3.30-5.30pm
Northbrook MET, Broadwater Campus, Broadwater Road, Worthing, BN14 8HJ
Wednesday 6 July - 3.30-5pm
Northbrook MET, Shoreham Airport Campus, Cecil Pashley Way, Shoreham-by-Sea, BN43 5FF
Thursday 7 July - 3.30-5pm
Brighton MET, East Brighton Campus, Wilson Avenue, Brighton, BN2 5PB
More details and the booking form can be found here:

If your next steps are undecided and you're not sure if further education is the best route for you,
take a look at some apprenticeships that are currently available in our area. If you are interested please apply directly to the company -
links on the job descriptions
.
Parentpay payments for Parkes
From 25 April 2022, the minimum amount that can be added to a student's lunch money account via Parentpay will increase to £10.
year 7 hone their team working skills
Year seven geography students developing their teamwork and communication skills this week by taking part in a "diagrams from memory" activity.
Students had to work as a team to recreate a diagram showing relief rainfall from memory. The quality of their final pieces was very strong including accurate labels to show geographical processes.
They also took time to reflect on the successes of their team and what they might do differently in the future to improve their memory.
summer term pe clubs
Click here for our Summer term PE clubs.
FRIENDS 300 Club
Tickets are still available for the 300 club. Each ticket costs £20 and gives you 12 opportunities to win – 1 a month. 3 numbers are drawn and will win a prize – the amount will vary depending on how many tickets have been sold in a particular month. Tickets can be bought via ParentPay.
Are you a follower?
Follow us on Twitter for the latest updates and news, including any emergency school closure information @wardenpark