NEWSLETTER: FRIDAY 1 july 2022
Super Send Off!
Last Friday saw the long awaited return of the annual Leavers Ball held at Ardingly Showground. The event was a huge success with students celebrating not only the end of their exams but also their time at Warden Park.
Students began arriving from 6:30pm and what an arrival they made?! From a Ferrari to a Rolls Royce and even a horse drawn carriage, the students certainly made an entrance, (just a small selection of the modes of transport can be seen below). With such a gorgeous display of dresses and suits on show the event could easily have been mistaken for a catwalk at Paris Fashion Week!
Once students had been welcomed with a mocktail it was time for dinner. The menu included gourmet beef and vegetarian burgers with spicy wedges and rainbow slaw with endless Ben and Jerry ice cream tubs to follow. Earlier in the year students had voted for their award winners in a range of categories including 'Most Likely to Win a Nobel Prize', 'Most Likely to Survive an Apocalypse' and 'Most Likely to Break a World Record'. Much joviality was had when the winners were announced and came on stage to receive their certificates. Following this the party really got started with the DJ spinning out a playlist Fat Boy Slim would be proud of!
Before we knew it the night was over….well, until the after party that is!
Goodbye Class of '22….May you go on to all the great things we know you are destined for!
Mrs Finley, Head of Year 11
Scientist of the Month
Dr. Ritu Karidhal (b. 1975)
Field: Space Science, aerospace engineering
known for: Working with the Indian Space Research Organisation, the Mars Orbiter Mission.
She has been referred to as the 'Rocket Woman' of India, playing a key role in the development of India's Mars Orbiter Mission one of the greatest achievements of the India Space Research Organisation and making India the fourth country in the world to reach Mars. Watch her tell the story (link below)
Science Words
The Suffix:
-cide (meaning killer of)
e.g. the farmer used selective herbicides to kill the weeds that were competing with her wheat crop
e.g. the gardner had to resort to
insecticides
to kill the pests eating his roses.
e.g. the condom was a more effective contraceptive as it contained a
spermicide
to kill spermatozoa
e.g. by dumping toxic waste, the company was destroying the natural environment it was commiting ecocide
Science reading:
Can we unlock the influence of our mitochondrial DNA?
Science watching
Many nations have attempted to send spacecraft to Mars -- but not one ever succeeded on the first try. That is, until India's Mars orbital mission, Mangalyaan. Ritu Karidhal was deputy operations director on the project, and she tells the story of how a young girl from Lucknow became a leader on this important scientific mission to explore the solar system.
Year 7 Spanish
We are coming to the end of the 'Town' topic. We are so proud of what they can produce in writing.
Mrs Moore, Curriculum Leader MFL
Maths Prize Winners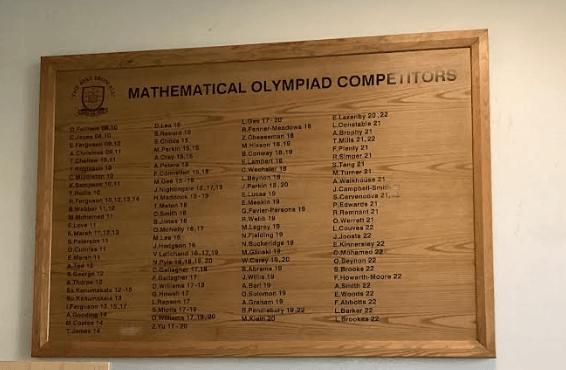 We are delighted to announce a new honours board for our top performers in the National UKMT Maths Competitions.
We have a very strong tradition of success in the Junior (y7/8) and Intermediate (y9-11) Maths Challenges - so much so that we needed a new honours board.
This has been kindly sponsored by Fairfax Building Young Futures and installed by McQuillan Signs.
Pictured by the new board, which has pride of place on the maths staircase, are our latest prizewinners from years 7 and 8. - well done you five, an excellent achievement!
See if you recognise any names from the old board too!
News from the UK Maths Challenge!
Toby Morris & Sarah Cervencova both achieved a Merit. The
highest result available.
Congrats to you both!
NEWS FROM THE FRIENDS
Our final meeting has been changed to 11 July
at the Wheatsheaf @ 7:30pm to celebrate the work Friends have done this year. You are all welcome to join us.
We are still looking for volunteers to pick up the mantle for next year as Chair and Secretary, so if you are interested or have any questions about the roles, please contact us on
friendsofwardenpark@gmail.com
or join us on the 11th
Parkes news
We will be trialing some new lines over the coming weeks leading to the Summer holidays. There may be some slight menu changes to allow for this.
HOT NEWS: Panini's are back on sale on Tuesdays for £1.80 for a limited period!
Are you a follower?
Follow us on Twitter for the latest updates and news, including any emergency school closure information @wardenpark
GREAT NEWS FROM ONE OF OUR ALUMNI
We received an update from Tom Barham's family this week. Tom left Warden Park in the Summer of 2020, right in the midst of Covid!
Since he left us he has been keeping himself busy and has recently joined the Royal Navy as a Weapons Specialist, passing out of phase 1 training in June 2022.
Everyone is so proud of him here at WP. Its great to hear such stories from our alumni.
Looking Ahead: IMPORTANT DATES FOR YOUR DIARY - 2021/22
Tuesday 5 July - Summer Showcase @ 6.30 pm (drama and music event)
Thursday 7 July - Year 9 and 10 Sports Day
Friday 8 July - Year 7 and 8 Sports Day
Monday 11 July to Friday 15 July - Enrichment / Work Experience Week
Thursday 21 July - End of Term. Students dismissed by 1pm
Thursday 1 September - Inset Day (Academy closed to students)
Friday 2 September - Year 7 only attend
Monday 5 September - All years attend
Thursday 15 September - Open Evening (students dismissed at 12.30 pm)
Monday 24 October to Friday 28 October - Half Term
Friday 25 November - Sussex Learning Trust Inset Day (Academy closed to students)
Friday 16 December - End of Term. Students dismissed by 1 pm
Dates are subject to change - please keep an eye on your inbox and website calendar for updates
Term Dates

Do not rely on Google searches when looking at term dates. You must refer to term dates published in newsletter or on our website. Thank you.
We have 2 Summer holiday Tennis courses too! See posters below. Please note the different dates.
Congratulations to the winners of May's 300 club draw:
First prize number 5 (parents of MR Year 10)
Second prize number 102 (parents of PB Year 8)
Third prize number 46 (parents of OC Year 9)
FRIENDS 300 Club
Tickets are still available for the 300 club. Each ticket costs £20 and gives you 12 opportunities to win – 1 a month. 3 numbers are drawn and will win a prize – the amount will vary depending on how many tickets have been sold in a particular month. Tickets can be bought via ParentPay.
Maths corridor makeover!
This term I have been working on improvements to the Maths corridor. It looks fantastic. I hope you like it.
Mr Iden
news from the kindness and wellbeing co-ordinators
Thank you to Sarah Lockwood who came in to run a Sound Healing session on Weds 29th June for staff in liaison with the Kindness and Wellbeing Co-ordinators.
The session was absolutely amazing and very relaxing and so popular we will be organising them again for next term...watch this space!
Our NEW granola bar is a hit!
Fresh greek yoghurt, selection of fruits, compote and granola for 80 pence.
Summer holiday sports courses now live!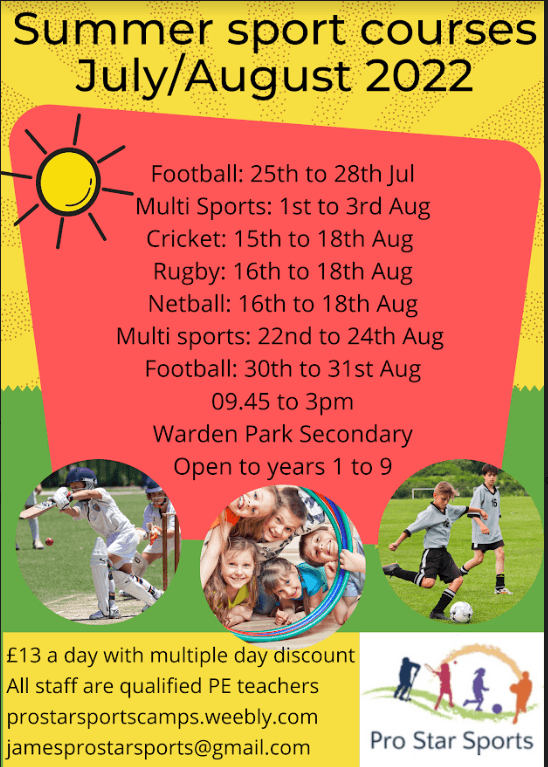 Are you concerned about the lack of engagement from your teenagers and how active they may be over the Summer holidays? We may have an answer to entice them away from the X Box and phone!
Often children only want to take part if a friend is doing so. We encourage them to show character and just get involved and make new friends.
For the younger students 0 to 6 if you book on for 2 full courses you will get the 3rd course for FREE.
Please see the booking links below for the courses we offer. Link includes dates, prices and how to reserve your place.