Brilliant video made by Year 10's on Genetics and Cloning
Brilliant, creative use of iPads in science to produce this revision video about Genetic modification and Cloning.
Created by Mathilda K and Alex S in year 10 in one of their Biology lessons.
Mr Tinkler, Curriculum Leader Science
NEW CLUB: TRAVEL AGENCY CLUB
Students are invited to join our new 'Travel Agency' club, which starts from next week. It will run on Wednesdays after school in M13.
Travel agencies are businesses that involve and connect lots of subjects together.
Geography, History, MFL, English, Maths, IT skills and Business are directly interconnecting to run such a business.
Teams of students will be allocated specific roles;
Team responsible for transport (airlines, boat, trains etc)
Team responsible for organised activities (historical visits, museums, sports, spas, etc)
Team responsible of preparing the travel holidays packages
Team responsible for the financial part of the sales (costing and setting of selling prices)
Team responsible for organising the sales (marketing, communication etc)
Students will take part in;
Preparation of the travel packages including study of various destinations: History of the place, accessibility, accommodation, the activities to do, the visits etc.
Costing of the travel packages and define selling prices.
Marketing and preparation of leaflets, social media, and questionnaires to find which packages will be the most popular.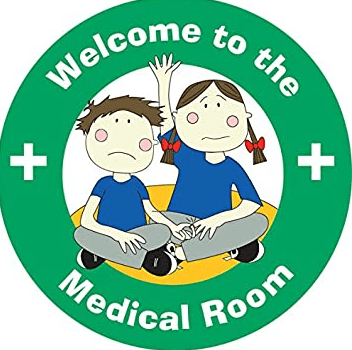 The Medical Room is open from 09.00 – 15.00 for students who have become unwell or sustained an injury during the school day. Students with non-urgent problems should come at break / lunch time.
Paracetamol is only routinely given from 10.45 - 13.45, and only if we have your consent to do so.
The procedure for students is to come to the medical room to be assessed by the Medical Welfare Officer (MWO). If, after assessment, we feel that your child needs to go home, we will contact you. The MWO will then inform pastoral staff and sign the student out.
For safeguarding reasons, students are not to contact parents directly to arrange collection. Please ensure that you and your child(ren) are aware of this.
Please contact the Medical Welfare Team if you have any questions or concerns.
01444 457881 EXT 265
Are you a follower?
Follow us on Twitter for the latest updates and news, including any emergency school closure information @wardenpark
Fundraising for a 3G defib!
Our Premises Manager, Mr Woolsey is taking part in the British Heart Foundation
London to Brighton Bike Ride to raise funds for a defibrillator and secure box to house it for our 3G pitch at the Academy.
summer term pe clubs
Click here for our Summer term PE clubs.
Looking Ahead: IMPORTANT DATES FOR YOUR DIARY - 2021/22
Friday 24 June - Inset Day (Academy closed to students)
Friday 24 June - Year 11 Prom
Monday 27 June - Year 6 Parents Evening (joining in September 2022)
Thursday 7 July - Year 9 and 10 Sports Day
Friday 8 July - Year 7 and 8 Sports Day
Monday 11 July to Friday 15 July - Enrichment / Work Experience Work
Thursday 21 July - End of Term. Students dismissed by 1pm
Thursday 1 September - Inset Day (Academy closed to students)
Friday 2 September - Year 7 only attend
Monday 5 September - All years attend
Thursday 15 September - Open Evening (students dismissed at 12.30 pm)
Monday 24 October to Friday 28 October - Half Term
Friday 25 November - Sussex Learning Trust Inset Day (Academy closed to students)
Friday 16 December - End of Term. Students dismissed by 1 pm
Dates are subject to change - please keep an eye on your inbox and website calendar for updates
Term Dates

Do not rely on Google searches when looking at term dates. You must refer to term dates published in newsletter or on our website. Thank you.
student take over!
Over the last academic year Izzy (Y10) has been leading Year 7 and 8 Dance Club (every fortnightl) teaching students a range of street dance. She has created not only a fantastic opening number for the dance show but shows confidence and leadership in her teaching skills.
I am very proud to watch Izzy teach dance to students who inspire to be like her. Thank you Izzy for all your help over the last year!
No
Monday dance club until 27th June.
Wednesday DanceLive until 4pm is on.
Miss Lelliott, Teacher of Dance
Is there a Doctor in the house? Attention Years 8, 9, 10 and 11
BrightMed identifies and supports young people from across Sussex who have the potential to become tomorrow's doctors.
The programme will increase awareness of what it takes to study medicine and healthcare subjects, through fun, inspiring and interactive teaching focused on medicine, health and science.
BrightMed works with students from Year 9 to Year 13. As a 'BrightMedder', young people will take part in regular Saturday sessions that involve knowledge sessions, activity days, lectures and seminars. There is also an opportunity to experience life as a student with a stay at the University of Sussex campus during a four-day residential summer school at the end of Year 12.
Every year BrightMed aims to recruit 80 Year 8 students, who will start the programme at the beginning of Year 9. Often we also have spaces in other years and so would encourage applications from those currently in Year 8, 9, 10 or 11.
For eligibility, further information and to express your interest please
click here
Brighton MET and Northbrook MET
We know that visits to college campuses are highly valuable experiences for prospective students and are also aware that a lot of time at school has been missed in the last two years. With this in mind we have decided that this year we will hold our dedicated Year 10 open events out of school hours. We hope this will mean more students are free to visit us to get their first taste of what life is like at college. So I am delighted to confirm that our Year 10 Taster Open Events will run on the following dates:
Tuesday 5 July - 3.30-5.30pm
Brighton MET, Central Brighton Campus, Pelham Street, Brighton, BN1 4FA
Northbrook MET, West Durrington Campus, Littlehampton Road, Worthing, BN12 6NU
Wednesday 6 July - 3.30-5.30pm
Northbrook MET, Broadwater Campus, Broadwater Road, Worthing, BN14 8HJ
Wednesday 6 July - 3.30-5pm
Northbrook MET, Shoreham Airport Campus, Cecil Pashley Way, Shoreham-by-Sea, BN43 5FF
Thursday 7 July - 3.30-5pm
Brighton MET, East Brighton Campus, Wilson Avenue, Brighton, BN2 5PB
More details and the booking form can be found here:

If your next steps are undecided and you're not sure if further education is the best route for you,
take a look at some apprenticeships that are currently available in our area. If you are interested please apply directly to the company -
links on the job descriptions
.
ICT Digital Services Technician
37 HOURS PER WEEK, FULL TIME SALARY £22,529 - £26,443 per annum
This is a key role within the Digital Services Team of the Trust, providing a wide range of provision and support services to enhance the delivery of learning and to support our operations. The Digital Services department leads IT infrastructure services, device management, wifi management, and other business systems.
We are looking to recruit an enthusiastic, well-motivated and suitably qualified person who is positive, flexible and well-organised with a 'can do' approach; someone who is hardworking and pro-active, who can work to a programme of work but who can also use their own initiative, with a strong work ethic and time management skills. The ability to work effectively, calmly and often under time pressure is essential.
If you are interested in this role and you would like to be considered for this post, please download an application pack, available on our website www.wardenpark.co.uk .
Closing date extended1
Your child just finished history in Year 11?
If your child has done GCSE history and does not intend to keep any of the revision guides that you may have purchased, we would be very grateful if they could be brought in and given to one of the history teachers (even if they have been highlighted or annotated). These will be put to good use supporting students in years to come, and helps us in being more sustainable.
Mr Murray, Curriculum Leader History
Have you ever wondered how small the solar system would need to be to fit inside a classroom?
The STEM club's challenge this week was to measure a science lab and the quad to see how they could fit a solar system inside, but keeping everything to scale!
Ms O'Brien, STEM Co-ordinator
Pasty making in food tech
Year 9's making traditional British food - Cornish Pasties this week!
Summer holiday sports courses now live!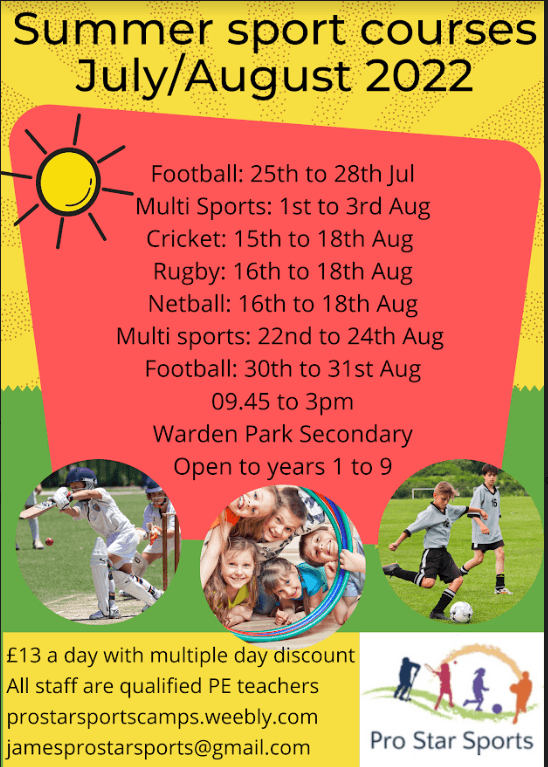 Are you concerned about the lack of engagement from your teenagers and how active they may be over the Summer holidays? We may have an answer to entice them away from the X Box and phone!
Often children only want to take part if a friend is doing so. We encourage them to show character and just get involved and make new friends.
For the younger students 0 to 6 if you book on for 2 full courses you will get the 3rd course for FREE.
Please see the booking links below for the courses we offer. Link includes dates, prices and how to reserve your place.
We have 2 Summer holiday Tennis courses too! See posters below. Please note the different dates.
FRIENDS 300 Club
Tickets are still available for the 300 club. Each ticket costs £20 and gives you 12 opportunities to win – 1 a month. 3 numbers are drawn and will win a prize – the amount will vary depending on how many tickets have been sold in a particular month. Tickets can be bought via ParentPay.