STEM SPECIAL
STEM Trip to the University of Sussex
25 year 7 students enjoyed a trip to the University of Sussex in last Friday's sunshine. They learnt about Sir Harry Kroto before building their own version of the carbon structure that he is famous for discovering! They were also given a tour of the campus, tried some interactive activities with the medicine, physics and chemistry departments and finally made a visit to the blue plaque that had been unveiled that day to commemorate the work of Harry Kroto.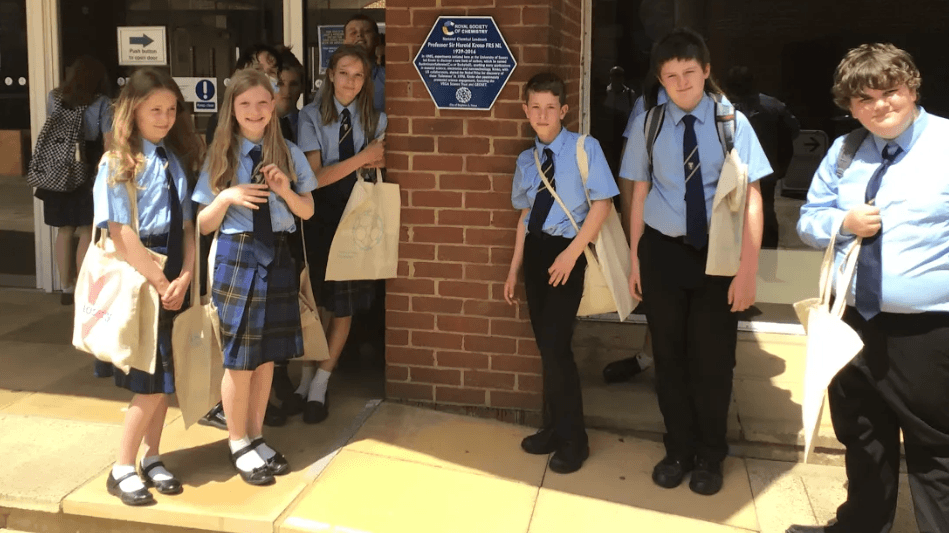 Grasshoppers, butterflies and spiders, oh my!
STEM club has been celebrating insect week by carrying out a bug hunt in different habitats around the school. Most of the insects were too speedy for photos but if you look closely you can see a camouflaged grasshopper, captured by Oscar in year 7.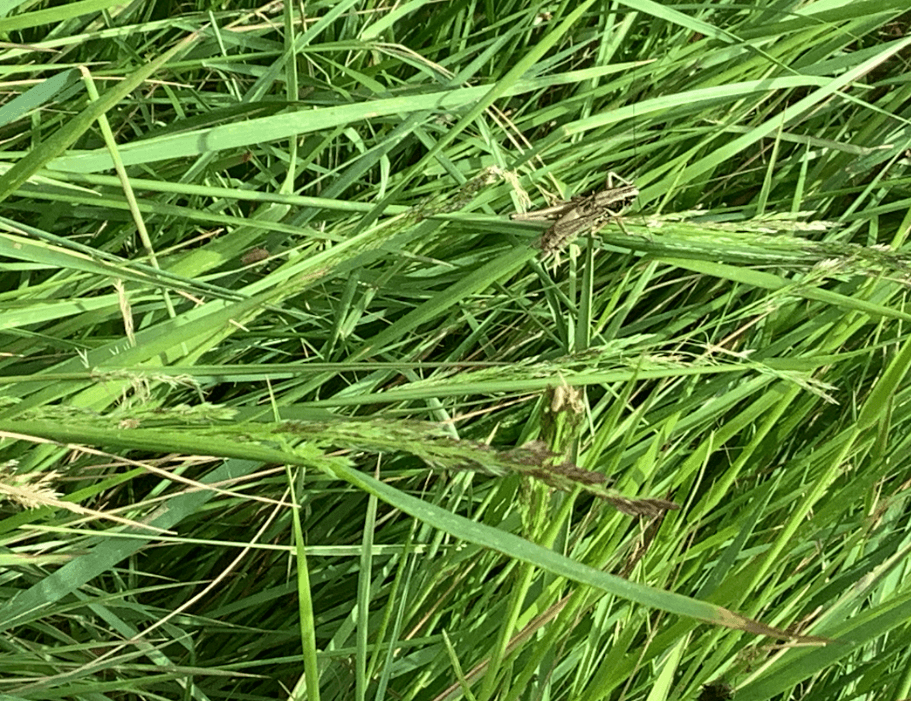 Year 8: mixed-media observational drawings of peppers and lemons
NEW CLUB: TRAVEL AGENCY CLUB
Students are invited to join our new 'Travel Agency' club, which starts from next week. It will run on Wednesdays after school in M13.
Travel agencies are businesses that involve and connect lots of subjects together.
Geography, History, MFL, English, Maths, IT skills and Business are directly interconnecting to run such a business.
Teams of students will be allocated specific roles;
Team responsible for transport (airlines, boat, trains etc)
Team responsible for organised activities (historical visits, museums, sports, spas, etc)
Team responsible of preparing the travel holidays packages
Team responsible for the financial part of the sales (costing and setting of selling prices)
Team responsible for organising the sales (marketing, communication etc)
Students will take part in;
Preparation of the travel packages including study of various destinations: History of the place, accessibility, accommodation, the activities to do, the visits etc.
Costing of the travel packages and define selling prices.
Marketing and preparation of leaflets, social media, and questionnaires to find which packages will be the most popular.
Are you a follower?
Follow us on Twitter for the latest updates and news, including any emergency school closure information @wardenpark
summer term pe clubs
Click here for our Summer term PE clubs.
has Your child just finished history in Year 11?
If your child has done GCSE history and does not intend to keep any of the revision guides that you may have purchased, we would be very grateful if they could be brought in and given to one of the history teachers (even if they have been highlighted or annotated). These will be put to good use supporting students in years to come, and helps us in being more sustainable.
Mr Murray, Curriculum Leader History
FRIENDS 300 Club
Tickets are still available for the 300 club. Each ticket costs £20 and gives you 12 opportunities to win – 1 a month. 3 numbers are drawn and will win a prize – the amount will vary depending on how many tickets have been sold in a particular month. Tickets can be bought via ParentPay.
Looking Ahead: IMPORTANT DATES FOR YOUR DIARY - 2021/22
Monday 27 June - Year 6 Parents Evening (joining in September 2022)
Thursday 7 July - Year 9 and 10 Sports Day
Friday 8 July - Year 7 and 8 Sports Day
Monday 11 July to Friday 15 July - Enrichment / Work Experience Week
Thursday 21 July - End of Term. Students dismissed by 1pm
Thursday 1 September - Inset Day (Academy closed to students)
Friday 2 September - Year 7 only attend
Monday 5 September - All years attend
Thursday 15 September - Open Evening (students dismissed at 12.30 pm)
Monday 24 October to Friday 28 October - Half Term
Friday 25 November - Sussex Learning Trust Inset Day (Academy closed to students)
Friday 16 December - End of Term. Students dismissed by 1 pm
Dates are subject to change - please keep an eye on your inbox and website calendar for updates
Term Dates

Do not rely on Google searches when looking at term dates. You must refer to term dates published in newsletter or on our website. Thank you.

If your next steps are undecided and you're not sure if further education is the best route for you,
take a look at some apprenticeships that are currently available in our area. If you are interested please apply directly to the company -
links on the job descriptions
.
We have the following vacancies.
We have 2 Summer holiday Tennis courses too! See posters below. Please note the different dates.
Parkes news
We will be trialing some new lines over the coming weeks leading to the Summer holidays. There may be some slight menu changes to allow for this.
HOT NEWS: Panini's are back on sale on Tuesdays for £1.80 for a limited period!
Our NEW granola bar is a hit!
Fresh greek yoghurt, selection of fruits, compote and granola for 80 pence.
Year 10 role models enjoy breakfast on us!
Last Friday, Mr Kenrick, Miss Sloan and Mrs Pike welcomed 119 Year 10 Role Models to share a Celebration Breakfast as a reward for their hard work and dedication, and for meeting the criteria for 'role model' in their Character for Learning.
It was wonderfully encouraging to see so many students at this event, and we are extremely proud of every single one of them.
Fundraising for a 3G defib!
Last Sunday I completed the journey from London to Brighton, in a time of 5 hours, 50 minutes.
All of you, who have sponsored, thank you, it will help massively in my goal of providing a second defib to our 3G Pitch. The link is open until August, if you wish to still donate, my donation page is open until August.
Thank you everyone for your support
(Please note this is a new link. Dan has already raised nearly £400).
Dan Woolsey, Premises Manager

With high temperatures currently please can you remind your child(ren) the importance of the following:
To apply sunscreen before they come to school, and to bring this with them in order to re-apply it when necessary.

Bringing a water bottle to school, which can be refilled at breaks and lunches as needed from the water fountains around the school.

Wearing a sun hat/cap which covers their head, neck and ears for their PE Lessons.

During breaks and lunches please recommend your child to find a shady spot to enjoy the weather.
Although the weather is due to cool in the coming days, we have the rest of the Summer term and September when temperatures could be well above average.
Summer holiday sports courses now live!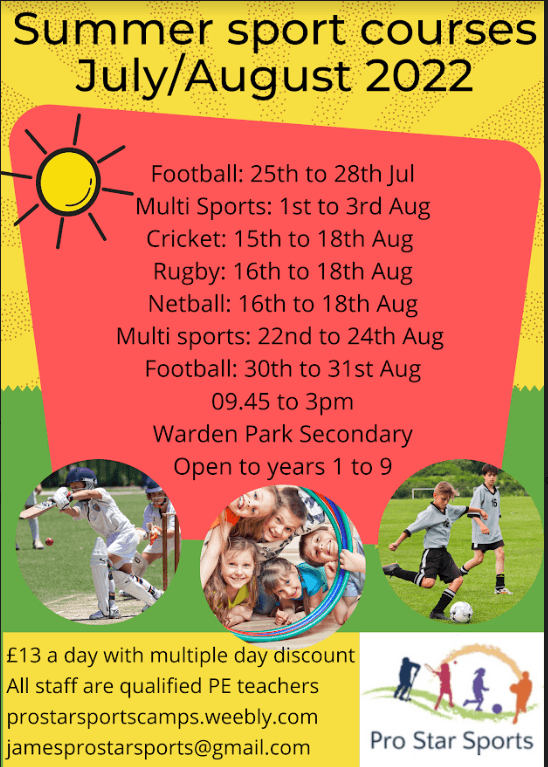 Are you concerned about the lack of engagement from your teenagers and how active they may be over the Summer holidays? We may have an answer to entice them away from the X Box and phone!
Often children only want to take part if a friend is doing so. We encourage them to show character and just get involved and make new friends.
For the younger students 0 to 6 if you book on for 2 full courses you will get the 3rd course for FREE.
Please see the booking links below for the courses we offer. Link includes dates, prices and how to reserve your place.