NEWSLETTER: FRIDAY 18 march 2022
Year 7 Geographers deciding which GOAL comes first!
To finish their poverty topic, 78 had to decide which Sustainable Development goal was the most important for The UN to deliver.
As you can see, it was hard to find an agreement, except for that they are all vitally important! Great to see year 7's highlighting the need to fight inequality as well as prioritising education, well done Team Geog!
Mr Graves, Curriculum Leader Geography
Assembly theme of the week: Making the most of life…
How we can make the most of life is the key question from this week's assemblies. Students have been asked to reflect on their earliest memories and the type of person they want to be. We looked at the forgetting curve and what each of us needs to do to help us remember things; something that is critical when it comes to revision. This includes making sure that we have had enough sleep and have eaten properly as well as taking the time to revisit material at least three times.
We explored the importance of recognising when we feel upset over something and it being okay to be upset about things as well as thinking about the things that make us happy and the importance of taking the time to do these whether this is spending time with friends, getting out into nature, spending time with pets, listening to music or reading a book.
Questions you could ask your child about the assembly include:
What they need to do to help them remember information in preparation for assessments.

What they took away from the story of Holly Butcher, the Australian woman whose words went viral in 2018 following her untimely death.

What are the things they thought about in the assembly when asked "what do you do that makes you happy?"
our students attend the european youth parliament south coast regional forum
A group of our Year 11 students were fully firmly out of their comfort zone when they were challenged to propose a motion for a resolution at the European Youth Parliament South Coast regional Forum at Bede's Senior school last Friday. This was the first time we had been invited and the other 8 schools consisted of all Year 12 students and most were independent schools. Our team of 8 students, brought together by Oliver McVicar were the only team to have their resolution successfully passed by the majority which was an amazing feat.
The initial nerves and apprehension at the beginning of the day turned into a contagious competitive hunger and an excellent example of team spirit, as they all supported each other with their emotive speeches to a room full of strangers.
The whole team want to return next year and hopefully they will lead this opportunity and convince others to join in at their respective further education colleges. Well done to you all for putting yourself up for this challenge.
Mrs Targett, Students Futures Manager
message from the friends
Our next Friends meeting takes place via Zoom this coming Monday, 21st March, at 7:30. Click on this link to join:
https://bit.ly/3IdTyOU
.
Come and find out what we are about and how you can be part of the school's story - everyone is welcome
WE celebrate pi day!
Monday was Pi day in the Maths department.
Students enjoyed making a pie and decorating it.
Mr Pyle could be seen wearing his pink Pi day T-shirt as well as other members of the team. Unfortunately, no one managed to take a picture!
We hope you enjoyed the pies students made as part of their homework?
out of school fundraising for the rnli
Bea spent a weekend earlier this month donating funds to the RNLI in Newhaven, it was the culmination of a project she started in Year 9.
Well done Bea!
see below a selection of the clubs on offer. There really is something for everyone!
Click here to find out what, where and when!
FRIENDS 300 Club
Tickets are still available for the 300 club. Each ticket costs £20 and gives you 12 opportunities to win – 1 a month. 3 numbers are drawn and will win a prize – the amount will vary depending on how many tickets have been sold in a particular month. Tickets can be bought via ParentPay.
Fundraising for a 3G defib!
Our Premises Manager, Mr Woolsey is taking part in the British Heart Foundation
London to Brighton Bike Ride to raise funds for a defibrillator and secure box to house it for our 3G pitch at the Academy.
warden park host a handball primary event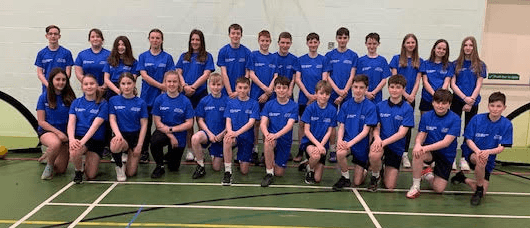 9 local primary schools took part in the event, with our Year 8 and 9 Sports Leaders doing a brilliant job!
The visitors learnt how to play handball on a carousel of activities and had a fantastic day. Both our students and our primary visitors had a great time.
Its terrific that we are able to run these events again, with everyone gaining valuable skills and having fun!
Sally Turner, School Sports Co-ordinator
Year 7 Languages
We are so proud of what our Year 7's are achieving in both French and Spanish. Here's an example of some exceptional work from Joe A in a Spanish lesson this week.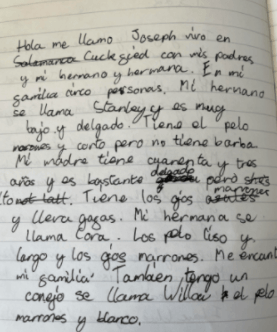 Year 11 French/Spanish final speaking exams
Did you see the email sent out yesterday to parents and carers regarding the speaking exams week beginning 25th April?
Please email hmoore7@wardenpark.co.uk if you have any questions.
STEVE WILLIS TRAINING CENTRES
We're offering free Gas & Electrical Taster Days at our Burgess Hill Centre for students that may be
considering a practical career in the future.
We have been informed that there are some spaces left on the following Webinar from Wildhearts..................................
Wh

at To Do When It All Goes Wrong (For Parents) - Thursday 24th March 7pm
Children and teenagers are a work in progress and there will be times when they make mistakes and get things wrong.

This webinar explains how to remain calm and turn the situation around so that it becomes an opportunity for learning and growth.
At the end of the webinar you'll have the opportunity to ask Alicia any burning questions you might have.
Places are limited, so will be offered on a first come first served basis. Register your place
here.
Are you a follower?
Follow us on Twitter for the latest updates and news, including any emergency school closure information @wardenpark
easter sports courses: dates for the diary!
If you are interested in early drop or late pick up 9am and 3.30pm please
email
Mr Gentry.
Click below for dates, times and prices:
Looking Ahead: IMPORTANT DATES FOR YOUR DIARY - 2021/22
Monday 21 March - Year 11 Revision Evening, 6 pm
Thursday 24 March - Year 9 Virtual Reporting Evening
Thursday 31 March - Spring Concert, 6.30 pm
Friday 8 April - End of Spring term. Students dismissed by 1 pm
Monday 25 April - Start of Summer term
Monday 30 May to Friday 3 June - Half Term
Friday 24 June - Inset Day (Academy closed to students)
Friday 24 June - Year 11 Prom
Monday 27 June - Year 6 Parents Evening (joining in September 2022)
Friday 8 July - Sports Day
Monday 11 July to Friday 15 July - Enrichment / Work Experience Work
Thursday 21 July - End of Term. Students dismissed by 1pm
Dates are subject to change - please keep an eye on your inbox and website calendar for updates
RUGBY CHAMPIONS!
Warden Park Year 9 Rugby Team are State School Sussex County Champions after beating Cardinal Newman, Hove, 19-17 at Brighton Rugby Club on Wednesday.
Try scorers were Josh HG, Arlo M and Leon Z. Barney V scored 2 conversions.
The team pictured: Finlay, Jacob, Theo, Archie, Rory, Barney, Josh, Will, Linus, Jack, Quincy, Arlo, Richard, George, James, Oscar, Leon and Mr Chappell
Technology drawing
Last week, Year 8 technology students had the chance to draw their bedrooms in one point perspective.
After just one practice lesson, here are a few fantastic examples from Kaia (84), Isaac (84), Josie (84) and George (83).
Miss Murray, Technology Teacher
Woodlands Meed Careers Fair
Last Tuesday a small group of Year 10 students attended a local Careers Fair at Woodlands Meed School in Burgess Hill.
They chatted to exhibitors and got involved in some activities to encourage their thinking about where their skills and strengths could take them in the future.

Mrs Targett, Student Futures Manager
Year 7's learn about food waste
Here are our Year 7's taking part in a food waste practical In their food and nutrition lessons.
Ms Potenza, Technology Teacher
Animal aid visit the academy
As part of their 'Food Choices' curriculum, Year 10 Food Preparation & Nutrition students welcomed visitors from Animal Aid this week, a group that promotes cruelty free living. Interesting debate took place around themes such as factory farming and veganism and students were able to cook up a spicy vegan chilli!
For students who are self isolating:
When students are self isolating and feeling well, it is important that they keep up with their learning. For most lessons teachers will ask students to join a Google meet. These Google meets will take place at the same time as the timetabled lesson. Students should check their subject Google classrooms to find out details of the Google meets and the work that has been set by the teacher. There is advice on how to join a Google meet through Google classroom on this link. If students are struggling to join the Google Meet, or have questions about the work, it is important that they let their teacher know.
Are you or anyone you know considering training to be a teacher?
Get into teaching with Sussex Learning Trust (SLT) in partnership with GLF
Warden Park Secondary Academy has considerable experience in training teachers and has been doing so successfully for many years. We are delighted and proud that so many of the teachers we have trained are now part of our staff or work in other local schools.
From September 2022 our teacher training capacity and the breadth of experience offered will be enhanced through our new partnership with GLF, the Teaching School Hub for West Sussex. This partnership offers SLT the opportunity to deliver GLF's highly regarded School Centered Initial Teacher Training
(SCITT)
in our locality. Their excellent programme leads to Qualified Teacher Status (QTS) and is exclusively school based training.
Further details are on our website but if you would like an informal conversation about training with us you are welcome to contact Nigel Regan (Assistant Headteacher) nregan@wardenpark.co.uk.
Term Dates

Do not rely on Google searches when looking at term dates. You must refer to term dates published in newsletter or on our website. Thank you.