NEWSLETTER: FRIDAY 3 december 2021
Tree planting continues in the community garden
Last Friday, the Warden Park Senior Team alongside other Year 11 volunteers partnered with Mr Woods to plant 28 trees in front of the Millennium Woods and at the end of the field to the left of the 3G pitch. We achieved a lot before some staff volunteers came after school and continued the work.
Although, it started slowly, as we continued we began to hit our stride. After being armed with spades and pitchforks we headed to Mr. Woods to receive our marching orders. In front of the Millennium Woods twenty four holes needed to be dug out for the cherry, apple, and pear trees. In groups of three, students worked to dig out these holes whilst others filled wheelbarrows full of mulch to deliver to the aforementioned holes.
During the digging and wheel borrowing, yet more squadrons of students were carrying sturdy fence posts from the right hand side of the community garden to the tree planting site. Others still, were carrying the potted trees to the holes and some were digging out more holes to the back-left of the 3G pitch. Although at points it was a little busy, it was very enjoyable to be working on a large project with my friends.
As our time slot was coming to an end, some students helped drive the fence posts into the ground around the larger tree planting site. The progress was notable and left us feeling gratified. During my whole time at Warden Park, the only times I had been around that untamed area was during the Interhouse Cross Country, and briefly during PE orienteering; seeing the transformation was really lovely, I enjoyed working on it, and I'm sure the others did too.
If you would like to help with projects like this and on the Community Garden as a whole in the future, please come along to help on the weekends and contact Mr Woods, bwoods@wardenpark.co.uk
Article written by Caleb Mohamed, Year 11
plea for help from local business
As many of you will now, at the end of each half term and term we review student character for learning scores.
As part of our Rewards Programme, Role Models are invited to a Celebration Breakfast, issued with a Parkes Fast Pass and entered into a raffle to win a meal at a local restaurant.
If you know of any local businesses who would be happy to offer a prize of a restaurant meal (or takeaway), then please contact
admin@wardenpark.co.uk
with the details.
Our Rewards Programme will run throughout the year, so feel free to get in touch with us if you can help, even if you are not in a position to donate at the moment.

Thank you.
gingerbread house competition - DEADLINE APPROACHING!
£1 to enter
1st /2nd / 3rd Prizes
All Staff and Students
Entries by Monday 13th December
To sign up please email mhale@wardenpark.co.uk and bring in £1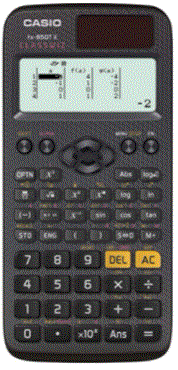 Calculators on sale
In the Maths department we require that students in every year group should bring a scientific calculator to every Maths lesson.
We currently have a stock of Scientific Calculators (Casio fx85-GTX ) for sale via ParentPay at the reduced price of £10.
Are you or anyone you know considering training to be a teacher?
Get into teaching with Sussex Learning Trust (SLT) in partnership with GLF
Warden Park Secondary Academy has considerable experience in training teachers and has been doing so successfully for many years. We are delighted and proud that so many of the teachers we have trained are now part of our staff or work in other local schools.
From September 2022 our teacher training capacity and the breadth of experience offered will be enhanced through our new partnership with GLF, the Teaching School Hub for West Sussex. This partnership offers SLT the opportunity to deliver GLF's highly regarded School Centered Initial Teacher Training
(SCITT)
in our locality. Their excellent programme leads to Qualified Teacher Status (QTS) and is exclusively school based training.
Further details are on our website but if you would like an informal conversation about training with us you are welcome to contact Nigel Regan (Assistant Headteacher) nregan@wardenpark.co.uk.
House news
Remember to keep up to date with their blog
It's a great way to find out how all the Houses are doing
#Beacon #Coombe #Downs #Forest #Heath
After school clubs schedule
Click here to find out what, where and when! PAUSED FOR THE TIME BEING DUE TO COVID RESTRICTIONS
LoST PROPERTY
If you have a query about lost property, please email
with a brief description of the item lost. We do urge parents to name all items.
Please can you ask your child(ren) to look through their bags for Cloakroom "tags" and collect any items .

We are always interested to hear from anyone in our local community who is considering a career in Teaching.
This includes those who have recently graduated, returners and career changers. There is a wealth of information on our website about teacher training and we have recently added a link to NOWTEACH which is an organisation that specifically supports career changers who want to teach.
oracy English lesson for Year 7
My 7XC students completed a 'no writing' oracy English lesson today, during which they explored the story of 'Medusa' and then entered the middle of the circle to act out a scene or offer insights on the text.
Ms K Al-Kahky, Joint Curriculum Leader English
CHRISTMAS PIE ANYONE?
During Year 9's free choice practical, Polly W made a fantastic Christmas Lunch pie. What a fabulous idea and delicious too!
CHRISTMAS HOLIDAY SPORTS COURSES
3 SPACES STILL AVAILABLE!
Click here for the multi sports course taking place over the Christmas holiday. Includes dates, prices and how to book.
Open to all students from Year 1 upwards and all ability/skill levels. Spread the word!
Are you a follower?
Follow us on Twitter for the latest updates and news, including any emergency school closure information @wardenpark
Term Dates

Do not rely on Google searches when looking at term dates. You must refer to term dates published in newsletter or on our website. Thank you.
Looking Ahead: IMPORTANT DATES FOR YOUR DIARY - 2021/22
Thursday 9 December - Year 11 Virtual Reporting Evening
Wednesday 15 December - Christmas lunch in Parkes
Friday 17 December - End of Autumn term. Students dismissed by 1 pm
Tuesday 4 January 2022 - Start of Spring term
Thursday 27 January - Year 8 Virtual Reporting Evening
Monday 31 January - Inset Day (Academy closed to students)
Thursday 10 February - Year 8 Options Evening (*new date)
Monday 21 to Friday 25 February - Half Term
Thursday 3 March - Year 7 Virtual Reporting Evening
Thursday 24 March - Year 9 Virtual Reporting Evening
Friday 8 April - End of Spring term. Students dismissed by 1 pm
Monday 25 April - Start of Summer term
Dates are very much subject to change - please keep an eye on your inbox and website calendar for updates
Christmas Hampers
This year, we are very pleased to be able to restart the Christmas hamper initiative. If you're not familiar with this, we traditionally donate care packages to elderly and vulnerable people in the local community to spread kindness and remind them that they are not alone during the festive period.
Tutors have been organising donations and students should have chosen an item that they can bring in from the suggested list shared by tutors (non-perishable food items, stationery and other gifts).
If you have any more donations, please ask your child to hand them to their tutor on Monday. Thank you!
friends news
Thank you to all parents that have purchased tickets to our Christmas Raffle so far - as of Wednesday, 1491 had been bought - and we hope you can help us smash our target of 2000 tickets! Sales close on the 12th December, so you have a little over a week to buy them.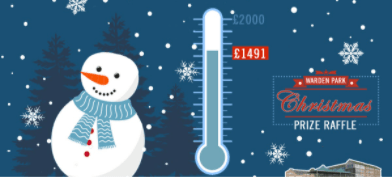 Tickets will be sent to you by email within 5 days of purchasing. If you haven't received them, contact us on FoWPChristmasRaffle21@gmail.com
You now have 2 ways to purchase your tickets which cost £1 each, sold in blocks of 5:
Option 1: via ParentPay linked to your child's account.
Option 2: Use this link https://bopp.app/link/1pbfb to pay securely from your bank using BOPP which is a payment portal that enables you to pay for things directly from your bank account, or scan the QR code on the poster. Feel free to SHARE THIS with family who may want to buy tickets as well.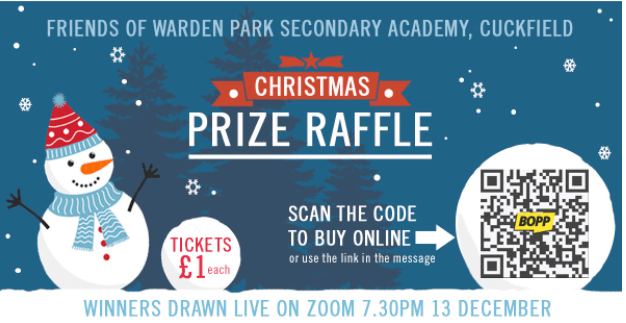 Tickets will be on sale until the 12th December with the draw taking place live via Zoom on the evening of Monday 13th December. You are all very welcome to join us.
A huge thank you to our amazing sponsors who have generously donated prizes so far. Please check out the current list below with links to their websites, and help support local businesses.
Sponsor

Prize

Website Link

Cuckfield Yoga Boutique

2 week unlimited pass

Eat, Cake, Love

Voucher for Afternoon Tea or Celebration cake

Friends of Warden Park

2 Bamboo Eco Cups

Gabrielle Stewart Photography

Family Shoot

Hairworks Salon

Hair Care Products

JoJos Boutique

Mini leather bag

Meadow Blooms

Christmas Wreath or Bouquet

More than Words

Personalised Gin Glass or Christmas Bauble

Natasha Merchant

1 night mid week stay at The Hyde for 2

Orchards Shopping Centre

3 x vouchers for M & S

Sophia Barlow

2 vouchers/prizes:

1 x osteopathic/ good health treatments

1 x Get Back to Exercise course

Sutherland Gardens

1 plant voucher for £25

The Glass Room Clinic

30-minute chair massage by Eva Cadalso

Tisshaws Solicitors

Cocktail Making Kit
If you would like to donate a prize please let us know by emailing friendsofwardenpark@gmail.com
Join us on Facebook
Are you a member of the Friends of Warden Park Facebook group? All parents and carers of Warden Park students can join and stay connected with our fundraising activities and events including Warden Park's monthly lottery The 300 Club.
Fundraise while shopping online
If you don't have a lot of time to get involved, that's okay – you can simply sign up to Easyfundraising or Smile.Amazon, select Friends of Warden Park School, and any time you shop online you could be helping raise money and it won't cost you anything. Please consider asking your extended family to sign up as well. We have been able to raise £99 in the last 30 days with only 80 supporters – imagine how much more we could raise these next few months if more people signed up or became active…
MFL news
French: Kinesthetic learning in KS3 to practise new vocabulary
Year 10 French: Using PADLET to revise the topic of 'Home and local area' ahead of their end of module test. Students were given categories and had to add language to each one. Great work Mrs Randall and 10C French.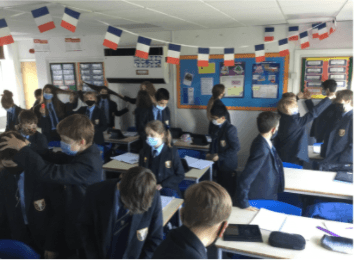 Follow us on Twitter @WP_MFL
For details of the curriculum and resources by year group, visit our Warden Park MFL website by clicking here
new february SPORTS courses just added!
For prices, dates and how to book, click on the links below.
Interested and want to sign up, use these handy links!
*Note there are restricted numbers due to lack of indoor space, so please book early to avoid disappointment. Some courses will run at only 50% capacity.
FRIENDS 300 Club
Tickets are still available for the 300 club. Each ticket costs £20 and gives you 12 opportunities to win – 1 a month. 3 numbers are drawn and will win a prize – the amount will vary depending on how many tickets have been sold in a particular month. Tickets can be bought via ParentPay.