Remember, Covid testing continues on Thursdays and Sundays. Remember, Covid testing continues on Thursdays and Sundays. Remember, Covid testing continues on Thursdays and Sundays.
NEWSLETTER: FRIDAY 18 JUNE 2021
Fixtures Results (none as yet)
Graphics: Shipping Container project
My Year 9 Graphics group have just finished their shipping container project; The task was to create a scale 1:20 model of a shipping container which has a new purpose, whether it be a medical practice, tattoo parlour, bar or holiday home! The Year 9's have worked very hard for weeks, developing their modelling skills to create their finished pieces.
Miss Murray, Teacher of Technology
Update from The Music TEAM
Although we continue to be challenged by the Coronavirus restrictions, it has been absolutely wonderful to hear the department coming back to life! After school music has started for Year 7s on a Tuesday and for Year 10 on a Thursday. There is no excuse for these year groups not to come down and get involved! Inside the classroom, we are also enjoying a lot more live music being played as part of our recovery curriculum. Here's a very short clip from a Year 7 lesson.
We have also been lucky enough to make use of the incredible Community Garden that has been created by Mr Woods and his team of volunteers. With numbers suddenly reduced due to COVID, we took our drumming outside (to the delight of the Business department no doubt!).
Year 10s have submitted mock performances as they prepare for their real solo performance exams at the end of this calendar year. Here's our resident superstar Ellie Hagan. The quality is so high and Mr Spencer and myself have been blown away by the musical talent in this year group. We can't wait until these students can perform live again!

Face to face instrumental lessons are also beginning to return. Information for this can be found on all Music Google Classrooms, and is also linked from our department website. If you have any questions about how your child can access private instrumental lessons, then please don't hesitate to contact lhood@wardenpark.co.uk. The Royal Conservatory have produced this interesting document which discusses just some of the benefits of learning an instrument!
a fantastic poem from Daisy H in Year 9
Jekyll versus Hyde
A ceasefire to the pains and strains
The end of a battle, the end of the chains
That imprisoned the mere human
Beyond belief. For I have created a new man.
A new man; a new life; a new find.
I assume his body, his heart, his mind.
Allow me to introduce Mr Hyde.
Risen from the flames, the burning veins,
Eyes of sin with a heart of coal.
Even the devil can't look into his soul.
Once a doctor, now a danger.
Who is this cold and dark stranger?
A pelt with a cane or a crush with a foot
I warn you to watch for his cloak full of soot.
Was that me? Was I there? Was I truly so grim?
Where does he go when I desert him?
I'm Jekyll, not Hyde; doctor not danger.
Where is the cold and dark stranger?
I smile and converse but I'm reeling inside.
What would they do if they knew about Hyde?
A marvel to science, a freak to us all.
Whatever would happen if I did drop the ball?
Creeping around, damn the price on my head.
Prisoner in this hellhole house. Might as well be dead. Slave to the night when the demons sleep and the guns don't fire Of being suppressed I'm starting to tire.
I do what I want and sin when I please,
No serum of separation for me - I'll never appease.
Cloaks of exhaustion, veils of agony.
Jekyll or Hyde? Eyes of blue or eyes of ebony?
Slipping away like water through my fingers,
In my veins, Hyde's evil still lingers.
The pen in my hand quivering in fear,
But I must finish explaining whilst my mind is still clear. Hyde must be hidden just like crime is forbidden,
Society can't take a man so unbidden. They'd hate me to be such a harbinger, But I feel I should tell you before you injure The Hyde inside yourselves.
For I'm there inside you all
Just trapped and in a thrall.
I can feel it coming - the final change. Promise me you'll remember the strange Case of Doctor Jekyll and Mr Hyde. Not two people but one divide.
We both shall die in the end,
Death will arrive like an old friend. Tis the only way to be rid of the evil The good of Jekyll not worth the retrieval. Utterson soon will find us together, He'll then work out the insuf erable tether. And now my time has come to a close, Hyde's coming to battle before he goes.
Black takes white, evil takes good. Hyde beat Jekyll like he knew he would. And so they lie there on the laboratory floor. Death has come: what Jekyll asked for.
friendS news
CAR BOOT SALE - Saturday, 26 June
Hopefully you are aware that Friends of Warden Park are hosting a car boot sale on Saturday, 26th June at the school, so if you have been planning a clear-out, this might be the time to do it!
If you are planning on selling, it will be helpful if you can email us to reserve a pitch so we have an idea of how many to expect, but it isn't mandatory - you are welcome to arrive on the day. The pitch fee is £10 and payable on the day.
We will also have some tables selling cakes, books and plants from the Community Garden and The Pod Street Food van will be there, so well worth coming along for a wander around.
*JUST ADDED* - we are also running a second hand uniform sale. Uniform is of a good quality at very reasonable prices.
The following items will be on sale:
Blazers £12-£15 (Please note we have a low stock of small sizes.)
PE house tops £5
Rugby tops £6
Shorts £3
Ties £3
Trousers £3
Shirts £1.50
Socks £1
Shirts £1.50
Please note skirts will not be on sale, the new longer style of school skirt required for all year groups in September must be purchased from Broadbridges or Sussex Uniforms.
Please note that there will be no option to try items of clothing on. In addition, we will only be able to accept cash or cheque payments for uniforms.
If you are interested and want more information about uniforms in advance please contact admin@wardenpark.co.uk
We will be needing volunteers either before the day (even an hour of your time will be much appreciated), or on the day for the following:
Sharing this with family and friends to ensure we spread the word about the event - anyone can come and buy or sell

Baking cakes and goodies for our cake stand

Donating your old books to sell on the book table. There will be a box outside the school Reception where you can leave them ahead of time

Assistance in selling and helping with the setup and cleanup of the pitches
Please let us know how you want to help by emailing friendsofwardenpark@gmail.com, or contact us via Facebook - friendsofwardenpark. Doing this event without your support won't be possible.
A big thank you to Mid Sussex Signs for printing our fabulous posters for us - they look amazing - see if you can spot them in the area you live!
Canopy Fundraiser:
All funds we have been raising this year are going towards our target of £10 000 to give to the school to enable them to continue putting up much needed canopies around the school that are providing shelter to our students as they move around the school safely. We have raised £3270 to date - have you taken a moment to contribute to our canopy fundraiser yet? Go to the Parent Pay website, and choose to donate from £2, £5 or £10 (or more!!). Please contact us if you wish to make a donation via a different means, or if your organisation would like to make a donation - we will happily promote them.
Thank you to the parents that have kindly donated to the canopy appeal so far. Don't forget to complete a Gift Aid form if you have made a donation to enable us to claim up to 25% of your donation and increase our fundraising at no extra cost to you
Message from the Medical Room
Parents/Carers - please can you remind your child/ren that in the event they fall ill during the school day, they should not contact you directly to make arrangements to go home.
A member of staff will assess your child and call you to arrange collection if necessary.
Thank you for your support.
Medical Welfare Officers

The Parent Perspective' Podcast

"The Parent Perspective" is an exciting new 8-part podcast series (beginning in June 2021) for parents and carers, helping them to support their children with careers advice and guidance.
Subscribe to listen to the episodes using the link below:
https://amazingapprenticeships.com/the-parent-perspective-podcast/
Looking Ahead: IMPORTANT DATES FOR YOUR DIARY
Monday 21 June - Inset Day (Academy closed to students)
Monday 28 June - New Parents Evening (Year 6) - virtual event
Friday 2 and Wednesday 7 July - Induction days for new Year 7 (TBC)
Friday 9 July - Year 7 Sports Day
Friday 16 July - Year 8 Sports Day
Friday 23 July - End of Summer term. Students dismissed at 1 pm.
Thursday 2 September - Inset Day (Academy closed to students)
Friday 3 September (Year 7 attend only)
Monday 6 September (All years attend)
Dates are very much subject to change - please keep an eye on your inbox and website calendar for updates
AFTER SCHOOL CLUBS ARE BACK!
Mr Atwell, Assistant Headteacher
Term Dates

Do not rely on Google searches when looking at term dates. You must refer to term dates published in newsletter or on our website. Thank you.
FRIENDS 300 Club
Tickets are still available for the 300 club. Each ticket costs £20 and gives you 12 opportunities to win – 1 a month. 3 numbers are drawn and will win a prize – the amount will vary depending on how many tickets have been sold in a particular month. Tickets can be bought via ParentPay.
SECOND HAND UNIFORM
We have a good quality stock of uniform available. If you have a specific item of uniform in mind, email admin@wardenpark.co.uk and we will see what stock we have and get back to you.
Thank you.
House news
Remember to keep up to date with their blog
It's a great way to find out how all the Houses are doing
#Beacon #Coombe #Downs #Forest #Heath
Are you a follower?
Follow us on Twitter for the latest updates and news, including any emergency school closure information @wardenpark
The Sir David Attenborough Appreciation Society (geography club)
Do you love nature documentaries?
Do you want to save the planet? Do you love watching David Attenborough?
Come along to our Wednesday afternoon sessions filled with documentaries, discussion and small projects.
Bring snacks!
Wednesday afternoons in G3 with Mrs Sofoulakis. 3:15-4:15pm
STEM CLUB NEWS
STEM club made the most of the weather this week and made parabolic heaters to use the sun's energy to cook some marshmallows!
Next week we will be making rollercoasters for marbles, if that sounds interesting to you then please join us in S13 on Tuesday at 15:10!
Miss O'Brien, STEM Co-ordinator
Year 7 : pull along toy project
The Year 7 'pull along toy' project is coming along nicely in the technology department - students have shown hard work and resilience to achieve such wonderful outcomes!


Miss Murray, Teacher of Technology
MFL news
Year 7 to 9 NEW FILM CLUB!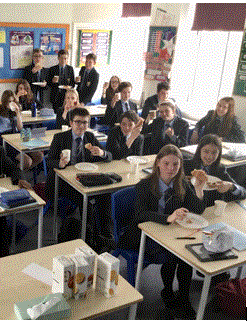 Students are invited to come along to MFL3 on Mondays to watch a selection of French/Spanish films. Next session 28th June.
As a reward for excellent vocabulary learning, Ms Havenne's Year 9 French class were rewarded with a French breakfast. Très bien fait!
New! Word of the week: a place
French : un endroit
Spanish: un lugar
*Reminder: Memrise is set weekly for all MFL students*
Not receiving school emails but think that you should be?
Remember to add us to your safe senders list to ensure you receive emails from us that come via the school emailing system. O
ur identity should be recorded as:
SC9384103A@

schoolcomms

.com
Also,
make sure this address has not accidentally been added to a blocked email list - this is to avoid any messages going into your spam folder or being bounced back to us.
NEWS FROM PE
See below our Summer term PE clubs. They are FREE, and open to all.